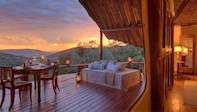 A selection of recommended Kenya Safari Lodges in popular Kenya safari destinations
Ol Tukai Lodge - Amboseli

Situated in the heart of the Amboseli National Park, Ol Tukai is camouflaged in a forest of fever trees and palms. From your room stretches a panorama of landscape, sky and wildlife with the massive majesty of snow-capped Kilimanjaro in the background.
The cottage-style rooms with shower only facilities are spread out on either side of the main lodge. There is a villa, which is usually recommended for families, and there are two disabled friendly rooms with ramps for wheelchairs. The architecture is unobtrusive with lots of wood, local stone and slate.
The lodge caters for weddings with its own little chapel and it makes an unusual and very attractive conference venue and all visual aids and facilities are on hand. Optional champagne breakfasts, bush dining or sundowners at the summit of Observation Hill, where the 360-degree view is superb, compliment morning and evening game drives.
The afternoon allows for a siesta, a massage or a refreshing swim before the afternoon game drive where one can view the profusion of game and birdlife supported by Amboseli National Park. Large Elephant populations are known to frequent the area. Evening entertainment includes Maasai dancing and optional cultural lectures for an additional cost. Make time to sit, watch, listen and relax, Ol Tukai has plenty to offer.
Visit Ol Tukai Lodge
Tortilis Camp - Amboseli

Seductively embraced by the hillside and hidden in a forest of the umbrella Acacia tree after which it's named, Tortilis Camp lies on the edge of Amboseli National Park. This exclusive camp is home to 16 private tents, each with en suite bathrooms that offer steaming showers and flush toilets.
Built from local materials the camp blends in with the natural environment. Capturing imaginations of evocative Africa, the camp is renowned for its delicious home-style cuisine, high standards of service and views of truly memorable sunsets over the famous Mount Kilimanjaro and Mount Meru.
Home to over a thousand elephants, herds of wildebeest, lions and over 300 species of birds, Amboseli is an exciting and diverse game viewing destination. A wide range of activities are offered such as early morning and late afternoon game drives, horse back riding, guided game walks, local community visits and bush dining.
Day visits to Chyulu Hills and Kimana Sanctuary can be arranged at an additional cost. Alternately you can laze around the pool with a cocktail.
Visit Tortilis Camp
Amboseli Serena - Amboseli

Amboseli Serena Lodge stands in the shadow of Mount Kilimanjaro, Africa's highest mountain, beside a copse of giant acacia trees and a gently flowing natural spring. With Kilimanjaro's high snow-capped peaks presiding over the landscape, the setting is unrivalled.
The rooms are influenced by native Maasai architecture and are in perfect harmony with the environment. Rooms are individually appointed with authentic African art and murals painted by a local African artist, covering a distinctly Maasai manyatta mood.
Accommodation at Amboseli Serena consists of 92 rooms and 1 suite, some rooms have splendid views of Mount Kilimanjaro. Facilities include wireless internet, private balconies and 24-hour room service. Besides the three daily game drives, guests can enjoy bush dining, talks on local culture and ecology by the resident naturalist,
Maasai dancing, music and entertainment or just relaxing by the pool and watching the animals coming to drink at the nearby waterhole. All around the lodge roams the big game that has made East Africa legendary - lion, buffalo, cheetah, giraffe, baboon, gazelle and wildebeest. The lodge has a fully equipped conference centre that can accommodate many delegates.
Visit Amboseli Serena
Campi Ya Kanzi - Chyulu Hills

Campi Ya Kanzi means 'camp of hidden treasure' and is situated in the prime game area of Southern Kenya bordering Amboseli and Tsavo. The main area has been named Tembo House, referring to the great elephants that roam the surrounding wilderness.
The lounge and dining room are situated in this main area and it is where guests can relax and socialize between safaris. Tembo House has been beautifully constructed out of local materials such as wood and lava rock and is open to the surrounding environment. The majestic Mount Kilimanjaro can be seen from the main terrace as well as from each of the tents.
The camp consists of six luxury tented cottages, each stands on a large wooden platform and has it's own verandah with spectacular views. The tents feature Colonial-style beds and en suite bathrooms with hot and cold running water, shower facilities, a basin, flush toilet and bidet. Cottages can accommodate a child in a cot, and two tents are near to each other, perfect for families.
Each tent has a dedicated Maasai attendant assigned to it and the camp is patrolled by night by a Maasai Askari, (guard). Campi Ya Kanzi is very small and personal, it has a very relaxed atmosphere and is very flexible in that there is no predetermined safari schedule.
The camp offers morning and afternoon game drives, nature walks with an experienced Maasai tracker and sundowners on one of the surrounding volcanic hills.
Visit Campi Ya Kanzi
Borana Lodge - Laikipia Plateau

Borana is situated in the north in one of the meandering valleys of the Laikipia Plateau in the foothills of Mount Kenya. The eight individual cedar and stone thatched cottages are very spacious, each with a private verandah and en suite bath and shower facilities.
The lodge blends in with the surroundings as it has been built with rustic wood furnishings and decorated with African fabrics creating a natural look and feel. Borana is self-sufficient in homegrown vegetables and dairy products.
All bread, pasta and cakes are homemade. The lodge offers both day and night game drives, walking safaris, trout fishing and a refreshing swimming pool. Optional activities at an additional cost include visits to the nearby Ilngwesi cultural village and rhino conservancy, horse riding, golf at Mt. Kenya Safari Club, a sightseeing flight around Mount Kenya and visits to Samburu Game Reserve and the Aberdare National Park.
There is an abundance of game in the area including lion, leopard, cheetah, buffalo, giraffe, elephant, hyena, rhino and a large variety of antelope. The lodge has also raised two orphaned bush pigs that wander freely around the grounds.
Visit Borana Lodge
Loldia House - Lake Naivasha

Loldia House nestles under acacia trees on the western shores of Lake Naivasha. It is one of the country's oldest farms, built in the Second World War and has breathtaking views of the dormant volcano, Mount Longonot. There is a choice of rooms in the old family house and cottages, with bath and shower facilities, many of the rooms are still furnished with original furniture. Mouth-watering meals are served under the trees or in the dining room.
Loldia is ideally situated for visits to the flamingo lakes of Nakuru, Elementaita, and Bagoria.
Lake Nakuru also offers excellent viewing of black and white rhino in the rhino sanctuary. By foot or on horseback guests can explore the farm where cattle graze amongst flocks of ostriches and herds of wild antelope like waterbuck and impala.
For an additional charge there is also fishing and bird watching on Lake Naivasha and visits to the nearby Hell's Gate National Park with its spectacular canyons, hot springs and wildlife.
Visit Loldia House
Mfangano Island Camp - Lake Victoria
©by Michael Poliza
This secluded camp is situated on the unspoiled paradise of Mfangano Island in Lake Victoria; it's shaded by giant fig trees and lost to the world. The only way to reach the island is by a light aircraft which lands on a dusty airstrip, and then there is a short ride by speedboat to the camp. The lawns hug the waterline, flowerbeds and rock gardens surround the camp and enormous boulders sit at the water's s edge, a perch for cormorants and monitor lizards to sun themselves.
The camp occupies an entire secluded bay on the western shores of the island and the buildings are attractively built of clay and thatch in the local Luo tribe style. The main area with a lounge and dining room is open and fanned by breezes from the lake. There are six rooms, each close to the water's edge and decorated with local handcrafts. The en suite bathrooms with modern fittings are finished in local stone.
There are plenty of activities to choose from, these include bird watching, island exploring, fishing for Nile Perch and visits to local villages and other islands. Mfangano Island is not only for overnight stays, it can also be used as a day trip from the Masai Mara as there are daily flights between Lake Victoria and the Masai Mara.
Visit Mfangano Island Camp
Rusinga Island Lodge - Lake Victoria

Situated on Rusinga Island on the northeastern shores of Lake Victoria. The water's edge is dotted with huge wild fig trees and the garden is home to exotic trees, flowers and birds, many of which are unique to the area.
Accommodation at Rusinga Island consists of 9 self-contained cottages and a family cottage with a twin and double room and with an interconnecting door. The cottages are crafted with local material.
Being by the waters edge the lodge is able to offer a variety of activities. Aquatic activities include fishing for Nile perch and tilapia, skiing, windsurfing and boat rides to the nearby bird islands where many bird species exist.
The bird islands also offer exciting walks and trails for bird enthusiasts. A short walk from the lodge brings one to a gorge in which fossils dating back 20 million years can be seen and the site where in 1946 Mary Leakey found Proconsul Heseloni, the last common ancestor of the great apes and man.
Visits to Ruma National Park can be arranged at an additional cost, these visits can include an optional bush breakfast. The park has a great variety of animals and birds; it is where you can see the last surviving group of Roan antelope as well as the Jackson's hartebeest, oribi, Rothschild's giraffe, leopard, buffalo, topi and impala.
Visit Rusinga Island Lodge
Siana Springs - Masai Mara

Fringed by marshes and surrounded by ghostly fever trees, Siana Springs is situated on the eastern edge of the Masai Mara. Perfectly capturing the romance of the early style pioneers, the camp possesses a tranquil atmosphere with spacious safari-style tents amongst shady trees.
The public areas of this tranquil camp include a convivial dining area and a swimming pool - an irresistible oasis on hot days. Siana Springs comprises 38 spacious tents. All of these classic safari tents are well spaced from each other, ensuring privacy and exclusivity for guests.
Each tent has a hanging cabinet, huge dressing and shaving mirrors, showers and WC. The camp also has an indoor bar/lounge area and leisure deck, where poolside dinners and parties are hosted. Relax in the indoor recreation/games room, where one can enjoy various board games. A curio shop and gallery is situated close to the reception area. A well equipped, but informal meeting room is situated in arboreal tranquility away from the central living/dining areas.
Elephant and leopard lookout hides offer wonderful viewing opportunities of these animals and much more beside. The lodge offers two daily game drive, bush dining and sundowners from a viewpoint, Maasai dancing and slide shows by the resident naturalist can be arranged. The naturalist also offers bird and nature walks, but these as well as the balloon safaris are at an additional cost.
Visit Siana Springs
Governors Camp - Masai Mara

Governors Camp is the jewel in the Governors Camps crown, for those who want an exclusive taste of the Governors' experience. The camp has 30 tents in total, all individually appointed and is ideal for families and groups.
Each tent has been furnished with handmade furniture and has en suite bathrooms with hot water showers, flushing toilets, a private verandah and a beautiful stretch of the Mara River to themselves. The Mara River attracts a host of animals that frequently come to drink and is home to hippo's that laze in the sun. The tents are luxurious, the meals are sumptuous.
This backed by the vast resources of the Governors' family makes it an ultimate safari destination. The camp offers morning and afternoon game drives, nature walks, bush dining and traditional Maasai dancing. For a unique experience, enjoy game viewing adventures from the Governors' hot air balloons.
The adventure begins just before dawn. There is absolute stillness as you float above the plains. The sounds below drift clearly upwards, a lion's roar or an elephant crashing through the bush. At the finish of a balloon safari enjoy a champagne breakfast in the bush cooked on the balloons burners. Balloon safaris and fishing excursions can be arranged at an additional cost.
Visit Governors Camp
Governors IL Moran Camp - Masai Mara
Situated in the wild and untamed part of the Masai Mara, Il Moran is a small and exclusive camp nestled in a forest on the banks of the Mara River. The forest has many species of birds and butterflies, and the river that runs in front of the camp attracts a great variety of animal species.
There are individually appointed tents spread out along the banks of the river, each has an en suite bathroom with flush toilets, bath and shower facilities, a private verandah and is romantically lit by candles and gas lamps. There is a dining area, bar and lounge but most of the meals are set under the giant trees in camp or out in the bush, both settings create an unforgettable experience.
The camp offers morning and afternoon game drives, nature walks, bush dining, sundowners and traditional Maasai dancing. For a unique experience, enjoy game viewing adventures from the Governors' hot air balloons.
The adventure begins just before dawn. There is absolute stillness as you float above the plains. The sounds below drift clearly upwards, a lion's roar or an elephant crashing through the bush. At the finish of a balloon safari enjoy a champagne breakfast in the bush cooked on the balloons burners. Balloon safaris and fishing excursions can be arranged at an additional cost.
Visit Governors IL Moran Camp
Mara Intrepids - Masai Mara

Situated in the Masai Mara National Reserve. Accommodation consists of individual tents each equipped with en suite shower only facilities, mosquito nets, a ceiling fan and a private verandah. A dining area with tables and a bar is situated between every four tents. The barbecue area can be used for private functions. The fully equipped conference centre is able to cater for delegates. Activities include morning and afternoon game drives, bush dining, nature walks, traditional dancing and cultural lectures.
The camp provides good photographic opportunities by having leopard feeding in the evening. The resident naturalist and culturalist offer informative lectures on the local area and people. Children are very welcome at the camp and a specially designed children's program, called the Adventurers Club, is aimed at keeping children entertained. Fishing excursions and balloon safaris can be arranged at an additional cost.
Visit Mara Intrepids
Sarova Mara Camp - Masai Mara

Situated just outside Kenya's Masai Mara National Reserve, which is indisputably the richest game sanctuary in Kenya. The great expanse of plains set against the distant hills provides a unique backdrop from which to enjoy the magnificent wildlife.
The area is world-renowned for it's annual wildebeest migration from the Serengeti in Tanzania. The camp is set on an elevation surrounded by two streams and hidden amidst wide gardens with manicured lawns and exotic flowers.
Facilities include a dining area that has internal and external seating and two bars, one internal with a fireplace and the other near the poolside. There is a swimming pool and curio shop. There are three tents which can be used to seat up to 300 conference delegates. All rooms have 24-hour electricity and a private en suite bathroom with a shower and hot and cold running water.
Game drives are done in a four-wheel drive vehicle, and bush dining and sundowners are offered. Evening entertainment includes two resident guitarists who play by the fireside and traditional Masai dancers. Balloon safaris can be arranged at an additional cost.
Visit Sarova Mara Camp
Cottars 1920s Camp - Masai Mara

Cottar's 1920's Camp is situated on a private concession between the Mara, Serengeti and Loliondo reserves. It is on the South-Eastern border of the Masai Mara National Reserve. The camp lies on a cusp of a forested valley beside a spring with extensive views across three reserves. Each of the 9 luxuriously furnished tents has a private en suite dressing room/bathroom with a bucket shower, flush toilet and on request a safari-style tub.
The tents are made from traditional white canvas and are decorated with safari antiques dating back to the 1920's. The camp offers both morning and evening game drives in 4-wheel drive vehicles or, if the guests choose, in an authentic old wooden car. An ox wagon can be used for short trips. It also offers fishing, aromatherapy massages, bathing in natural rock plunge pools and the use of the tented library and reading room with interesting mementos from the Cottar's illustrious history.
Visit Cottars 1920s Safari Camp
Elsas Kopje - Meru

A private hideaway perched on top of Mugwongo Hill in the old Northern Frontier District of the Meru National Park. The lodge is named after Elsa, the orphaned lioness reared by Joy and George Adamson and returned to the wild in Meru.
Elsas Kopje has an open plan design that incorporates the surrounding rocks into the structure. The dining area, lounge and swimming pool provide ideal venues for relaxing and taking in the spectacular view of the vast plains below.
The rooms are all individually designed and have an open airy feel to them. There are rooms with twin beds and the rest have king-sized beds. All rooms have en suite bathroom facilities and a sunken bath with an uninterrupted view of the plains. Elsas Kopje offers game drives in 4WD vehicles as well as guided nature walks, fishing, rafting on the Tana River and bush dining.
Visit Elsas Kopje
Samburu Intrepids - Samburu

Perched on the banks of the Uaso Nyiro River in the soul-stiring wilderness of Samburu National Park, Samburu Intrepids is one of the most remarkable safari getaways in the reserve.
The public area, which is open and airy, is where guests enjoy all their meals and where they can relax in either the bar or lounge area. All rooms, including the main area overlook the river where huge herds of elephant, buffalo and a variety of other animals and birds come to drink on a daily basis.
Accommodation comprises of tents, each set at the rivers edge with it's own secluded deck. The tents are furnished with four-poster beds and elegant mahogany furniture, mosquito nets, a mini bar, ceiling fan and modern en suite bathroom with a shower and flush toilet.
Samburu Intrepids offers morning game drives, delicious bush breakfasts, candlelit bush banquets, walking safaris with skilled Samburu guides, camel rides, spectacular hilltop sundowners and even rafting when the river is in full flow.
Visit Samburu Intrepids
Sarova Shaba Lodge - Shaba

Known as 'Born Free' country, this semi-desert reserve was made famous by Joy Adamson and her lioness Elsa. The park is home to a host of wildlife, unique to the area, including the reticulated giraffe, grevy's zebra, gerenuk, beisa oryx and ostrich. Sarova Shaba is an oasis of flora and fauna with sparkling spring water flowing and cascading through the grounds.
The lodge is a unique African experience for those with a true sense of adventure. The lodge facilities include thatched roof bedrooms and luxury suites, all including a private toilet and bathroom with shower and hot and cold running water.
Mosquito nets, fans and electricity are also standard. The superior suite also has a jacuzzi. There is also a dining room, two bars, a swimming pool featuring a waterfall, curio and gift shop, conference facilities for up to 100 people and a medical clinic. Activities include game drives in four wheel drive vehicles and camel back safaris.
Visit Sarova Shaba Lodge
Galdessa Camp - Tsavo

Galdessa Camp is beautifully situated on the banks of the wide Galana River in Kenya's largest national park, the vast and untamed Tsavo National Park. Nestled under the shade of doum palms, the camp has a very relaxed feel to it and has been designed to blend in with the environment by using earthy colours and natural woods throughout.
All the guest facilities including the main dining and lounge area face onto the Galana river and the Yatta Plateau beyond. There are 5 spacious tents all with twin beds, solar electricity and en suite bathrooms with traditional bucket shower, flush toilets and basins.
Each luxury tent is built on a timber floor under a palm-thatched roof and has a canvas front that opens onto a verandah during the day and is zipped closed at night. The lodge offers both game drives and nature walks, but their specialty is the bush dining and sundowners that take place in the surrounding hills where the views are spectacular.
Visit Galdessa Camp
Finch Hattons - Tsavo

Nestling at the foot of the Chyulu Hills in the wild and diverse expanse of the Tsavo National Park,is Finch Hattons. The main area comprises of a dining hall, lounge, bar and terrace. Breakfast is served on the terrace, which overlooks the main hippo pool and the majestic Mount Kenya.
The dining area has been furnished with many interesting period features including a stone fireplace, high vaulted ceiling, chandelier, latticed windows and doors, the tables are decked with silverware, cut crystal and porcelain.
There are luxury tents all equipped with electricity, mini bar, an en suite bathroom with hot and cold running water, basin and slate walled shower room. The swimming pool and sundeck provide an ideal place to hide from the hot sun. Finch Hattons offers morning and afternoon game drives.
Visit Finch Hattons Camp