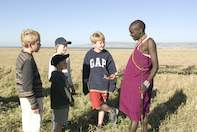 © David Rogers
Children on a walking safari at Governors Camp.
If planning a holiday with your partner and children fills you with dread more than warm and happy thoughts about the amazing memories you will create then you should read this article.
When you plan a road trip with your family, or an overseas trip to another country, at some point you will need to consider the many long hours of sitting still and being 'well behaved' that will be required from your children over the course of the holiday.
Any parent will know and understand the looks one gets when you and your small child board a plane and walk down the aisle towards your seat with every person turning to look at you with a look on their face which has only one clear message; they are all hoping and praying that you are not going to sit in front, behind, next to or even near to them.
While you are packing all your bags and placing everything in their neat Tetris style positions in your car, you cannot help but shudder for a quick instance at the thought of the endless stretches of road in front of you and the hours of driving. Sometimes this shudder is one of anticipation, but if you have children the shudder is more likely to be one of anticipation of the 'are we there yet...' enquiries.
Here are a few helpful hints and tips to make sure that your holiday with your children is as smooth and relaxed as possible and that you survive and even enjoy travelling with your children.
Packing
If your child is old enough, then plan for them to have their own special backpack or piece of luggage to look after and carry or keep with them in the car. This bag can be filled with their favourite toys and other goodies such as a book, a few games and anything else your child may enjoy playing with. Having to carry and look after their own bag will become an activity on its own as the child will feel like 'a big boy/girl' who is responsible for their own possessions.
Pack an additional small carryon bag for yourself with all the absolute essentials you may need at any point. This will save you having to scratch through multiple bags or unpacking the entire boot of the car just to find the wet-wipes. This bag should also always include a change of clothing for both you and your little one - the last thing you want to do is spend a 12 hour flight covered in vomit.
Games and Movies
You want to also consider investing in toddler-sized earphones as normal earphones are often clumsy and uncomfortable for children. During the packing for your holiday you may also choose to load a number of games onto your cell phone and I-pad as well as some of the favourite movies so the children can watch them while on the plane or in the back of the car.
You may also want to spoil your children with a few extra new toys or surprises which you can produce at particularly difficult times during the holiday to keep them entertained and to give you some time for a rest. If you are heading on a safari to a game reserve these new toys or activities could include a colouring book of animals or other items that will teach the children about the African bush and the environment they are traveling to.
Don't forget about the age-old favourites of simply games such as I-spy or a memory game, these are excellent ways to pass an hour or two with your child and are also educational, making them notice and pay attention to their current environment and what is around them.
Before you Leave
Before you board the plane or drive out of your driveway leave some time for the children to run around and for the baby to crawl around. This exercise time is an important way of releasing some of the pent up energy. Make sure everyone goes to the bathroom before climbing in the car or onto the plane, even if they don't need to go at that very minute.
Food
Don't rely on the convenience of roadside garages or airplane food to keep your little one well-fed and content. Pack a small array of easy to eat, non-messy or sticky food and if you are travelling with more than one child then take two or three cups or bowls - you don't want to children to fight over who gets to go first while sitting on the plane.
You may also want to keep a 'special' tin or packet with some of your children's favourite sweets or biscuits on hand for moments when a reward for good behaviour or a carrot to dangle is needed.
Explain the Adventure
Before you climb into the car or onto the plane explain what is going to happen, where you are going and why it is important. Take the time to make a story out of the experience, this will add to the sense of adventure and might help your child to understand why he or she needs to be extra-specially well-behaved.
Before take-off and landing make sure your child has something to chew or drink and that the baby is nursing or drinking a bottle. This will help with the air pressure. Explain to little ones how to clear their ears if the pressure builds up but blocking their nose and blowing - the more information they have the easier the process will be.