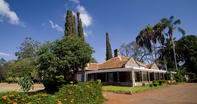 Karen Blixen Museum in Nairobi.
Nairobi travel guide on attractions, game reserves, national parks, things to do in and around Nairobi and general travel tips for when travelling to Nairobi, Kenya.
Nairobi is one of the largest (and fastest growing) cities in Africa. It is one of the continent's most vibrant cities. Many tourists spend as little time as possible in Nairobi, closeted in their hotels before heading to Kenya's Big Five safari attractions in nearby national parks.
With some pre-planning it is easy to explore this vibrant, cosmopolitan city that has much to offer.