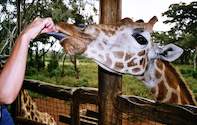 Visit the Giraffe Centre in Nairobi.
There is a lot see and do on a day out in Nairobi, Kenya. You can go on safari in the Nairobi National Park or have your own 'Out of Africa' experience at the original home of Karen Blixen these are just two of a great range of activities available.
Nairobi is known as the 'Safari Capital' because it started out as the frontier town or gateway to the north, and it is still a major hub for the tourism industry. Nairobi has come a long way from its swampy and rustic beginnings. It's an exciting city with wildlife on the city perimeter and an vibrant party atmosphere at popular night spots.
Nairobi is one of the fastest growing cities in Africa with many attractions. It has become a bustling metropolis and a crossroads for different races, tribes and cultures. You can sightsee, shop, dine and party at a range of venues and also enjoy sporting activities like golf, rugby and cricket.
Attractions in the City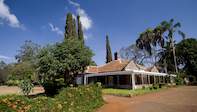 ©Justin Fox
Karen Blixen Museum in Nairobi.
Nairobi National Museum and Art Gallery was completely refurbished and modernised in 2008. The museum represents Kenya's rich national heritage; nature, culture, history and contemporary art and boasts Botanical gardens and a nature trail, with shopping and dining facilities.
Located adjacent to the Museum is Nairobi Snake Park, which is very popular with visitors. Currently the snake park exhibits two major groups; 1. Invertebrates, for example, giant snails, Mombasa train millipede, crayfish and freshwater prawns. & 2. Vertebrates, including marine and freshwater fish, amphibians, reptiles, birds and mammals.
The snake park is also a rescue and rehabilitation centre for reptiles those that have been abandoned, confiscated or from illegal collections. Discounted joint tickets are available to purchase at Nairobi National Museum which include admission to the Snake Park. Opening hours are 08:30 - 17:30 every day, including weekends and public holidays.
National Railway Museum - this museum represents the historical growth of Nairobi and Kenya. It follows the history of the railroads in Kenya, including the laying of lines from Mombasa via Nairobi to Kampala known as the Kenya/Uganda Railway (a great feat of engineering but beset with unimagined difficulties at the time). The museum is situated at the northwest end of the Nairobi station and has a collection of steam locomotives and rolling stock plus a large display of smaller exhibits and models. The museum is still rail connected, allowing restored locos access to the main line. Opening times: 08:45 - 16:45- every day including most public holidays.
Uhuru Gardens - located along Langata Road lies Kenya's largest Memorial Park. Uhuru is Swahili for "freedom". It is known as Kenya's birth place, as it is here where the first Kenyan flag was raised marking independence on 12th December 1963. This is the perfect location for walking or jogging, for those that want to get fit. It is also a popular area for picnics in the city. Open daily from 08:00 - 18:00
Night Clubbing in Nairobi - packed with restaurants, nightclubs and bars, the Westlands District is the place to go for wining, dining and partying into the wee hours. Westlands is an affluent neighbourhood and administrative division 3 Km away from Nairobi's CBD.
Markets - for all kinds of keepsakes the Maasai market is a must, it changes location depending on the day. Enquire at your hotel in Nairobi, to find where the market is being held on the day. Alternatively the Hub in Karen is a modern shopping mall open Monday to Saturday from 09:00 - 21:00, which has an eclectic variety of shops and eateries.
Attractions on the outskirts of the city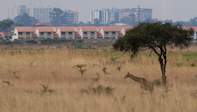 ©Shem Compion
Giraffe in Nairobi National Park.
Nairobi National Park - Nairobi is the only city in the world where you can go on safari and see wildlife with skyscrapers in the background. This unique park is a successful black Rhino breeding centre as well as being home to Buffalo, Lion, Leopard, Hyena, Cheetah, Hippo, Wildebeest and a variety of other antelope species plus great birdlife. There are picnic sites and trails to enjoy including guided walking safaris. Opening hours are from 06:00 until 19:00 daily.
At the Kenya Wildlife Service headquarters, 7 km from the city, is the Nairobi Animal Orphanage which treats and rehabilitates wild animals that have been rescued from various parks and reserves across the country. These baby animals include lion, cheetahs, hyenas, jackal and serval to name a few. Here you can get a close up view of the baby animals. There is also an animal adoption programme you can join. Opening hours are from 08:00 to 17:00 daily.
Sheldrick Elephant Orphanage - is a sanctuary for Elephant and Rhino calves that have been orphaned mainly due to poaching. They are cared for day and night until they reach a stage where they can be released into the wild herds of Tsavo. Visitors can watch the calves being bathed and exercised. Open daily from 11:00hrs to 12:00hrs.
Giraffe Centre - has evolved from a centre for breeding the Rothschild Giraffe to a place for conservation and youth education programmes. Visitors can feed the Giraffes from a raised platform. The Giraffes can be seen wandering around the extensive grounds along with the warthogs. There is also a teahouse and nature trail. Open daily from 09:00 to 17:00 including weekend and public holidays.
Karen Blixen Museum - the museum building is now over 100 years old and located in a suburb of Nairobi. It was the original home of Karen Blixen who was an author, poet and artist from Denmark. The movie 'Out of Africa' was based on her life-story. Adjacent to this museum is a workshop and store for Kenyan jewellery made by local women in order to provide them with a much needed income. Opening hours are from 09:30 to 18:00 daily including weekends and public holidays.
Brown's Cheese tasting room - located 40 Kms outside of Nairobi is Brown's Cheese Farm where speciality cheeses are made using organic farming methods. You can have a tour and a three course lunch at the farm, which includes homemade breads, jams, chutneys and homegrown organic salads. This is a wonderful opportunity to sample excellent cheese fresh from the factory, including seasonal cheeses too. Open Thursday to Saturday 12:00 to 16:00 by appointment only.
Golf - is a popular sport in Kenya with courses all over the country. In Nairobi you can play a round at Karen Country Club (18 holes) open from 07:00 until 23:00, and the Royal Nairobi Golf Club (18 holes) Open from 08:00 to 18:00.
Bomas of Kenya - Bomas of Kenya - offers a great insight into Kenyan culture where visitors can enjoy music and dance shows, relax in the grounds where there is a children's play area and see the way traditional homes are made. It is Kenya in miniature, just 10 Kms from Nairobi and 1 km from the main entrance to Nairobi National Park. it offers daily acrobatic and traditional dancing shows which start at 14:30 to 16:00 on weekdays and 15:30 to 17:15 on weekends and public holidays.
What You Should Know
Do's for Travelling in Nairobi
Nairobi is a great city to visit, but like anywhere there are some things to know before you travel; here are some do's and don'ts to consider.
Do take a safari - Nairobi is known as the safari capital after all - there are several types of safaris you can choose from: cultural, wildlife, adventure, sport or scenic.
Do visit a Maasai market - an open air market selling hand-crafted carvings and beaded jewellery. They are found everywhere, so don't feel pressurised into buying the first things you see, you'll get other chances.
Do haggle at the markets, it's part of the Kenyan culture; Take time to engage the artisan and find out if he/she is the one who made the item. They love to talk about their work and being appreciated. Pay a price that you are happy with, if you are satisfied with the price, then it is a good deal.
Do learn some KiSwahili - most people in Nairobi speak English, but it is always good to learn some simple keywords especially if you are shopping at the markets.
Do prepare for the traffic - traffic lights are often merely a decoration, so don't be surprised when cars keep moving even though the lights show red. When planning your excursions or ride to the airport factor in the traffic. Try and avoid rush hour times which are from 07:00 to 09:00, 13:00 to 14:00 and 17:00 to 19:00 - you can be stuck in traffic for quite a while in rush hour, from 30 minutes to a grim 2 hours!
Do ask about need to know laws. Recently there have been some changes in municipal laws - for example: don't cross the road whilst speaking on your cell phone (unless it's hands free), you could be fined by the police if caught.
Do keep your valuables safe - either lock them up in the hotel safe or carry them in hidden belts, out of sight out of mind. Don't wear expensive jewellery as you wander around the city. Take normal city precautions, as it is always better to be safe than sorry.
Do have Kenyan tea or coffee - relish the great flavours and aromas, both are grown in Kenya. Some noteworthy coffee houses are Nairobi Java House and Dormans coffee.
Do Kiss a giraffe at the Giraffe centre.
Do try Nyama choma - a typical Kenyan barbeque, usually goat is served with ugali (maize meal) and Kachumbari (salsa).
Dont's for Travelling in Nairobi
Don't worry about the time - in Kenya the reality is that not everything starts on time, except of course flights! But cultural events and opening times may be slighter later than advertised.
Don't be surprised if you are frisked at every building - security checks are everywhere in Nairobi.
Don't be surprised when people don't always carry cash, in Kenya there is mobile banking. It is very convenient and safe to have your money stored in this way; it's called Mpesa.
Don't forget to ask the price of the taxi before you start your trip. Always agree a price before you start the journey, most taxi's are not metered; so it is better to get the price of the fare up front, and only pay upon completion of the trip. If possible ask a local or your hotel for the "normal price" of the fare.
Don't carry only large bills, it is much better, especially when going to markets or using taxi's to carry small denominations. Remember to change your money into the local currency, as you will get a better exchange rate at the forex bureaus than you will on the street. Also remember that US dollar bills printed before 2003 are not accepted in Kenya.
Don't expect fast internet speeds. There are internet cafes all over Nairobi, but the speed is not always great.
Don't smoke on the streets, it is against the law in Nairobi. It is best to see what other smokers are doing and follow suit.
Don't forget to apply for your visa online before arriving in Nairobi, using E Visa.
Don't forget to immerse yourself in a new culture, chat to the locals, you'll find that on the whole Kenyan's are a very friendly nation with genuine beatific smiles.
Don't panic about your trip, Kenya is a very modern country and you can get most things there. There are major banks, ATM's and popular fast food joints. So don't overpack!