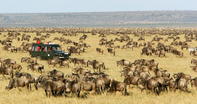 Masai Mara safari lodge accommodation options located within the Masai Mara region of Kenya.
As the rains of Africa move across the continent so do the plains animals, on their endless quest to survive. They follow the rains which replenish the parched land allowing the new growth of grass to appear. As the grass is devoured the plains animals move on to the next green pasture, in a continuous loop from north to south and back again.
As the plains animals move, they encroach into their predators territory. It appears that the predators are following them on their quest for fodder; but the reality is, each predator has a territory that it defends from others. Anything entering that territory though is fair game.
Visiting the Masai Mara anytime of the year you can see the big cats, hyenas and antelope, as there is always resident game in good numbers.
The Masai Mara is a romantic safari destination with some truly luxurious intimate camps and Masai Mara safari lodges to cater and pamper you on this relaxing getaway. There are also family-friendly Masai Mara safari lodges and camps that offer family rooms and child-friendly activities so that the whole family can experience and enjoy the beauty of the bush.
One of the most serene ways to experience the vastness of this landscape is by floating above the Masai Mara in a hot air balloon. Walking safaris accompanied by a knowledgeable local Maasai guide are also a wonderful way to explore the savannah.
Behold the Great Migration
The wildebeest and zebra migrations is a spectacle to behold with the sheer mass of numbers moving through the plains, but the downside of this, is also the sheer number of tourists wanting to share the same spectacle!
Some of the Masai Mara camps are mobile, and so move with the migration, to ensure that they are in the perfect area for the en masse movement of the herds. The majority of the camps are permanent, and their guides know the area intimately to show their guests a feast of wildlife. In the long rainy season some camps are closed between April and May.
See recommended Masai Mara safari lodges in Kenya.