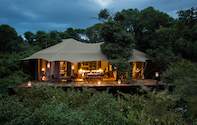 Mara Plains Camp shares the home of the Big Five in its location in the private Olare Motorgori Conservancy bordering the Maasai Mara National Reserve. Get a closer look at wildlife wonders as you escapade through the bush on game drives and wildlife walks.
Accommodation: Luxury tented suites with canvas ceilings, each uniquely decorated
Activities: Game drives, wildlife walks, balloon safaris and cultural visits.
Highlights: Enjoy the remoteness of the camp and the visits from the free-roaming wildlife
Destination: Masai Mara Game Reserve, Kenya
Be amazed by the wide-mouthed hippos that laze around in the waters of the nearby river. Find refuge in one of the luxury tented suites at this Masai Mara Safari Lodge. Spend your nights listening to the majestic roar of the lion or the flapping of elephant ears as you lay in a bed surrounded by authentic African furniture and decorations.
The days of your Kenya safari will be spent following the fresh tracks left behind by the predators and their victims. Spend time alongside qualified rangers and trackers as they explain animal behaviour and answer any questions you may have about this diverse ecosystem.
All the structures are built on elevated decks and the use of cement has been avoided to ensure that no trace will be left should the camp be removed. This eco-friendly act is reflected in the lodge's social responsibility outlook as they are actively involved in supporting the local communities.
Mara Plains makes contributions towards the natural conservation of the conservancy as well as to the local Maasai people. The area remains fairly undeveloped to ensure that visitors get a realistic experience on their African safari.