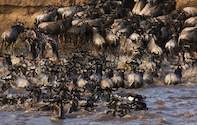 Living in the centre of wild activity, it's natural to partake in game viewing activities. Tick Africa's most prized wildlife off your list as you are driven through the bush in an open 4x4 vehicle and take a walk in the wildlife, making new discoveries.
Masai Mara Game Drives
Early morning, late afternoon and night 4x4 drives ensure a balanced view of the entire wildlife species.
Wildlife walks – Get a closer view of the facets of the bush and in some case, even a feel. The walks in the bush aim to teach you more about the less talked about yet essential aspects of the wilderness such as the plant life and land formations.
Hot Air Balloon Safaris
Offered at an additional cost, these safaris are a once-in-a-lifetime experience. Drifting over the Mara plains, you will get a bird's eye view of the herds grazing the plains below.
Local Village Visits
The local Maasai families still lead a traditional lifestyle, minimally exposed to the advancements of the Western world. Take a peek into their culture and appreciate their simplistic ways.