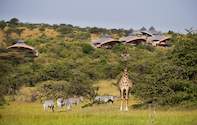 Mahali Mzuri is Richard Branson's Kenyan luxury safari camp located within the private Olare Motorogi Conservancy within the greater Masai Mara.
Why We Love it and You Will Too
Mahali Mzuri occupies a stellar location within the world-famous Maasai Mara right along the path of the Great Migration.

Along with scores of wildebeest, other iconic animal sightings include lions, elephants, giraffes and cheetahs.

Do as much or as little as you like. Embark on twice-daily guided game drives, visit a local Masaai village or simply kick back and pamper yourself to a massage or two.

The tented suites are oh-so-luxurious, offering a front-row seat to unrivalled views of those fiery Kenyan sunsets and sunrises.

Families are most welcome at Mahali Mzuri. Little guests will also be rewarded with a pack of goodies to keep them entertained throughout their stay.
Your Mahali Mzuri Experience
Mahali Mzuri stands as Sir Richard Branson's latest safari camp tucked away within the private Olare Motorogi Conservancy in the wider Maasai Mara, Kenya.
The property promises a fine blend of luxury paired with exceptional game viewing, not to mention a VIP ticket to the annual migration where scores of wildebeest, zebra and gazelle come thundering through the region between July and October.
Aside from twice-daily game drives led by the team of knowledgeable tracker-guides, you can also visit the nearby Masaai village, squeeze in some 'me' time at the spa and embark on champagne picnics out amongst the plains.
The selling point for a Masai Mara safari at Mahali Mzuri is that you can decide how you want to spend your time, especially those quiet moments in between game viewing. At the heart of the camp is the main lounge where you can strike up a conversation with other guests or curl up on the sofa with a good book. On sizzling summer days, make a beeline for the infinity swimming pool with your safari drink of choice – a G&T, perhaps?
In the evening, settle down for dinner around the communal table, or somewhere a little more private. Between the accommodation and the cuisine, this is everything you'd expect from a property owned by Sir Branson.