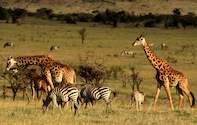 Mahali Mzuri is an exclusive tented camp located amongst the rolling hills of the Motorogi Conservancy, a private region of the greater Masai Mara, Kenya.
Mahali Mzuri is situated within the Olare Motorogi Conservancy which extends to an area of 13,500 hectares (including the Olare Orok conservancy).
Overall, it's roughly 240km west of Nairobi, but the best way to travel there and back is via plane to and from Nairobi-Wilson Airport. Special charter flights can be arranged (just ask our Travel Experts), but there are also a number of domestic airlines providing scheduled flights to and from the region. There are two airstrips close to Mahali Mzuri; the Olare Orok airstrip approximately 25 minutes away, and the Mara North airstrip which takes roughly one hour's drive.
With regards to getting into Kenya, the main international airport in Nairobi, Jomo Kenyatta, offers daily direct flights from the main European hubs such as London, Paris, New York, Brussels, and Amsterdam. There are also daily arrivals from Johannesburg in South Africa.