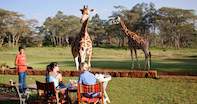 © Robin Moore
Giraffe Manor in Nairobi.
Four and five star Nairobi hotels vary from grand colonial elegance to modern pan-African chic, located in around central Nairobi.
Nairobi is one of the many bustling African cities located right in the heart of it all. Tourists often stay at Nairobi hotels before they head out to visit Big Five safari destinations nearby.
Tourists can go from a nice day spent lounging around at a luxurious Nairobi hotel to exploring what Nairobi has to offer - there's plenty for everyone!
If you have time, or are just looking for something new and exciting, you'll find that this lively city isn't too hard to explore once you get things planned out ahead of time.