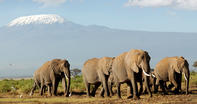 See recommended Kenya safari lodges located in Amboseli and Tsavo National Park.
Amboseli National Park is known for its big skies and far horizons combined with swampy springs and dry and dusty earth trampled by hundreds of animals. The name Amboseli, comes from a Maasai word meaning "salty dust"
Tsavo East is a beautiful game reserve in Kenya where elephants roam the landscape and herds of them can be seen all around. The Galana River passes through the Park and this provides life giving waters in this arid region, which makes it a perfect habitat for these enormous animals. The Park is located in the middle of Kenya, halfway between Nairobi and Mombasa.
Tsavo West forms one of the largest wildlife conservation areas on Earth and is one of the largest national parks in Kenya. The park has abundant wildlife, but due to its size and thicker vegetation game viewing is more challenging. The landscape here ranges from volcanoes to hills - giving visitors an incredible diversity that they won't find anywhere else!