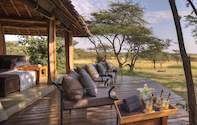 An exclusive Kenya family safari awaits at the quarters of Naboisho Camp in the Greater Masai Mara, where endless adventures await.
Accommodation: Luxury tented suites
Location: Mara Naboisho Conservancy
Activities: Game drives, walking safaris, picnics, kids program
Indulge in sheer luxury and comfort during your stay at Naboisho Camp, located in the Greater Masai Mara, adjacent to the Masai Mara National Reserve. Peace and serenity are the keywords for your Kenya family safari getaway at Naboisho Camp. Accommodation is in one of only 9 opulent tented suites, each equipped with plush, modern amenities.
Naboisho Camp offers activities especially designed for children, which is ideal for families wanting to explore Kenya. Kids can enjoy the safari of their life, tracking animals they only see on television. New friendships await at the local community, where both you and your family will marvel in a life-changing experience.
As the Mara Naboisho Conservancy is outside the jurisdiction of the game reserve, game drives are not restricted by the same rules. Travellers can therefore expect a wildlife experience like no other. Off road driving, bush walks and night game drives enhance the safari repertoire and increases game viewing opportunities.
This private conservancy is renowned for being a Big Cats haven, and action-packed game drives are a highlight. Follow free-roaming predators as they stalk antelope on your morning and afternoon bush excursions.
On guided walking safaris, discover the hidden gems of the bushveld as you slowly move from bush to bush. Occasionally you may be able to have a close encounter with the wild game, quietly observing from a hidden vantage point, unobtrusive and undetected. Slowly creeping away from the adrenaline rushing encounter, safe that the animal is blissfully unaware of your presence.
Apart from the traditional Masai Mara safari activities, rekindle the romance and adventure taking your partner on a scenic hot-air balloon safari.