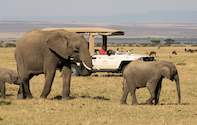 Mahali Mzuri guests can enjoy a tailor-made Masai Mara safari experience, with activities like game drives, walking safaris, and cultural visits to the neighbouring Maasai village.
Wildebeests and Wildlife
Here in the Olare Motorogi Conservancy you can certainly expect to see those mega-herds of wildebeests arrive anytime from July to September. However, if you don't happen to be in the area during those months, there is still plenty to see aside from those galloping and grazing gnus. Guided game drives depart camp twice-daily, led by the dedicated guides who will endeavour to get you up close to a medley of birds and big game like elephant, hippo, giraffe, cheetah, and the resident prides of lion.
Memorable Mahali Meals
A stand-out feature of Mahali Mzuri is, of course, the cuisine. Being so far removed from nearby towns and cities, it's pretty remarkable what the chefs are able to whip up at the drop of a hat. The dishes are varied and hearty, with elements borrowed from a mix of exciting cultures from Africa through to Europe. Meal times really are an experience in their own right, be it lantern-lit tables for two on the deck, champagne picnics or sociable bush barbecues. Yes please!
Families on Safari
What we love most about Mahali Mzuri, is that families are welcomed with open arms. Upon arrival, little guests will be gifted their own pack of goodies to keep them entertained throughout their stay. For added peace of mind, the rangers are also on hand to help supervise a range of educational activities, like animal tracking and birding around the vicinity of the camp. Nighttime calls for stargazing, storytelling, and marshmallows cooked right over the fire.
Maasai Community Tours
If you'd like to add a bit of culture to your safari experience at Mahali Mzuri, sign up for one of the visits to the nearby Maasai homesteads in the area. It's very much a hands-on experience where you can help milk the cattle and directly speak to some of the locals about their day-to-day life. You can also pop in at one of the community schools, accompanied by your knowledgeable Maasai guide.