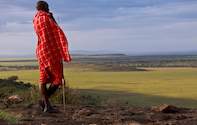 Bordering the Maasai Mara National Reserve on the northern side, Mara Plains Camp is situated on the Ntiakatek River in the private Olare Motorogi Conservancy.
The Mara
In close proximity to the Maasai Mara National Reserve, Mara Plains Camp shares some of its amazing wildlife. This savannah is saturated with many species, including the wild cat species – lions, cheetahs and leopards. With an excess of safari vehicles and guests, the Olare Motorogi Conservancy is a prime game viewing spot.
Getting to Mara Plains Camp By Air
Mara Plains Camp is primarily accessed by seat-in plane air transfers or private charters. On arrival at the airfield, the transfer to camp is approximately 30 minutes allowing time for game viewing. Flying times from Nairobi's Wilson Airport to Ol Kiombo is 390km, or a one-hour flight.
GPS Coordinates:
1° 19' 25.2" S, 35° 14' 27.3" E