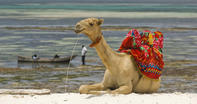 © Justin Fox
Articles and regional information on the various things to do and parts of Kenya's Swahili Coast to explore. The collective information forms a comprehensive destination guide to Kenya's Swahili Coast.
See Kenya Coast Hotels and Resorts
The Kenyan coast is known for its dazzling palm-fringed white beaches, secluded coves, fishing, scuba diving and snorkelling. The coral reefs teem with brightly coloured fish and you can see Dolphins and Sea Turtles. The tropical climate and warm Indian Ocean waters are major attractions for tourists.
Mombasa is the main centre on the coast with its interesting Old Town and fascinating heritage, but there are also a number of smaller towns and pockets of cultural interest along the coast. The coast stretches for nearly 600km (370 miles) between Tanzania and Somalia.