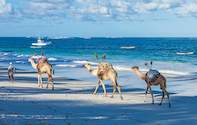 A short travel guide to the popular Diani Beach and Shimba Hills found on the Kenyan South Coast.
Diani Beach
Diani Beach is a popular beach resort area on the Indian Ocean South Coast of Kenya. It is located 30 Km south of Mombasa.
With ten kilometres of pristine white beach, shallow water near the shore and sand banks which allow wading in the warm clear waters, no wonder it is a popular place to visit. Inland from the beach there is extensive, lush green vegetation including numerous palm trees making for a picture postcard beach holiday scene.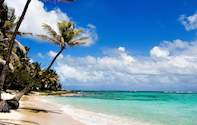 Diani Beach boasts high class restaurants, hotels, supermarkets and several shopping centres. Something to suit all pockets.
Things to do at Diani Beach: Kite surfing, scuba diving, deep sea fishing, golf and even sky diving are all available along the stretch of beach. There are also art galleries, or spas for the ultimate pampering. Alternatively party the night away and one of the many bars or disco's. There is something for everyone here.
Shimba Hills National Reserve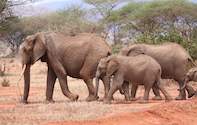 Shimba Hills National Reserve is found 15 km inland and 33 Kms from Mombasa, it is one of the largest coastal forests in East Africa. It is rich in flora and fauna and has the highest density of African elephant in Kenya. Other animals found here include Sable antelope, elephant shrew, giraffes, leopard, buffalo and mongoose to name but a few.
The magnificent Sheldrick Falls are found in the Shimba Hills National Reserve on the South Coast of Kenya. These waterfalls are a fantastic 25 m (82 ft) drop ending into an inviting plunge pool. Enjoy a 2 Km guided walk along a footpath accompanied by a ranger who explains and teaches you about the various plants and habitats found in the reserve.
The footpath takes you through the forest which is home to the elephants and buffalos. Listen to the sounds of the animals and the rushing water as you relax in this peaceful haven.
Kenya South Coast Accommodation