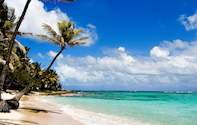 The beautiful Kenya Coast offers many attractions including white sandy beaches with palm trees swaying in the breeze. An East African beach paradise waiting to be explored.
Mombasa
The island city of Mombasa is the headquarters for Kenya's coastal tourist trade but has none of the fine beaches to be found to the north and south. Instead, this is a place to savour the history of the East Coast of Africa, a history of slavery, pirates, war and adventure.
The Old Town, Fort Jesus and the Old Harbour are fascinating places to while away a few hours, especially the Old Harbour, where you can watch majestic dhows, still sporting ancient rigs, plying their trade as far afield as Yemen and the Persian Gulf.
Shopping is a delight in Mombasa, whether it be from vendors for locals crafts, or from the merchants in Biashara Street for Kenya's almost obligatory beachwear, kikoi and kanga cloths. But do be careful of pickpockets.
Malindi
©africashot
125km north of Mombasa, is the Miami Beach of East Africa, with its stretch of beautiful hotels and vibrant night life. Offshore are the Malindi and Watamu Marine National Parks, home to some of the finest scuba diving and snorkeling in Africa.
The coral reefs here are strictly protected, and for non-divers, glass-bottomed boats provide a window on an incredible marine heritage. This is one of the few places in the world where it is possible to snorkel in water less than 3 metres deep, and experience the kind of fish life usually reserved for scuba divers.
Malindi is where Ernest Hemingway came to pursue marlin, sailfish and wahoo, and anglers can hire state of the art boats and equipment for what is rated as the best game fishing in Africa.
Kenya South Coast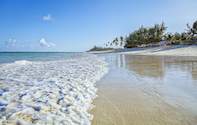 ©africashot
Protected by an offshore barrier coral reef, the south coast is famous for beautiful and safe beaches, and spectacular diving, fishing and surfing. Resorts include Likoni, Tiwi, Diani Beach and Shimoni. Shimoni is Kenya's southern angling headquarters, with boats heading out into the Pemba Channel in search of the denizens of the deep.
Offshore are another two magnificent marine reserves, Kisite Marine National Park and Mpunguti Marine National Reserve, both with superb diving. And just a bit south, is Wasini Island and the Wasini Marine National Park, with arguably the best snorkelling in Africa.
Inland is the little-known Shimba Hills National Reserve, a 192km², heavily forested plateau which home to, among others, Elephant, Sable Antelope, Leopard, Buffalo and Hyenae.
Learn more about Kenya South Coast
Kenya North Coast
Stretching from Mombasa to Malindi, the north coast features a number of resort areas hidden away down deceptive tracks. Bamburi Beach, Kenya Beach, Watamu Beach and Casuarina Beach are some of the better-known resorts, but there are also hidden gems like Kilifi Creek, Kikambala, Kanamai and Takaunga.
Learn more about Kenya North Coast