Things to Do While Travelling Around Kenya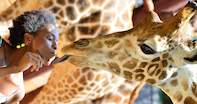 © Giraffe Centre in Nairobi, Kenya.
A destination guide, travel tips and regional information handy to know when travelling to Kenya.
Read about the experiences of intrepid adventurers and travel writers as they share the highlights of their travels.
Learn more things to do while travelling around Kenya as well as travel tips and planning your safari in Kenya.