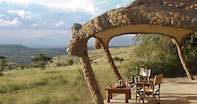 One of Kenya's early ranches, Lewa Downs, has been home to the Craig family since they moved from England and began raising cattle in 1924.
Lewa Downs is one of very few private ranches in the world where you can see such a remarkable variety of wildlife and their interaction with each other in their natural habitat. Wilderness Trails is an all inclusive safari experience with all meals, drink and activities included.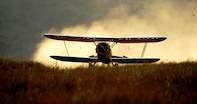 Arriving at Lewa Downs
While you are here, you may see everything from Elephant and Rhino to Dikdik, reticulated Giraffe, Eland, Hartebeest, Gerenuk, Warthog, Impala, Grants gazelle, cape Buffalo and bush Buck. Two species of Zebra graze the plains: Burchells and the rare Grevy. Lion, Leopard and Cheetah reside on the ranch as well, and the occasional sighting of the elusive and magnificent greater Kudu is a rare treat.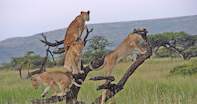 To see and photograph the animals you may go on walks, horseback or camel expeditions, or day and night game drives in custom four-wheel-drive open-top vehicles. The experienced guides know all the best areas for spotting game and enjoy sharing their knowledge with guests.
The horses are well-trained and patient, so even novice riders may experience close encounters with the wildlife. Sometimes you can almost touch the giraffe!
Anna Merz's highly respected Ngare Sergoi Rhino Sanctuary for endangered black Rhinos encompasses a total of 61,000 acres - all of the Ranch plus the neighboring forest reserve. Lewa Downs also has an acheulian hand-axe site where one can visit and observe this fascinating discovery just as it was 500,000 years ago.
Accommodation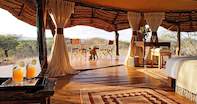 There are 10 accommodation options in the Lewa / Borana area. There is a lodge to suit all tastes.
Elewana Kifaru House
Lewa Wilderness
Laragai House
Lewa House
Sirikoi Lodge
Sirai House
Arijiju
Lengishu
Especially for You
Enjoy night and day game drives by open-top, four- wheel-drive vehicles, guided walks, and camel rides.
Visits to orphaned wild animals. There is a stable full of horses ready for you, a swimming pool and a tennis court. Superb al fresco dining and perfect service!