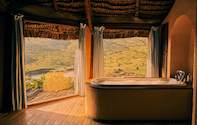 Borana lodge offers an outstanding eco safari in Kenya, with spectacular views of Mount Kenya, wildlife and special activities including horseriding safaris.
Rhino sanctuary with black and white rhinos
Large variety of wildlife and birds
Cultural excursions to meet the Maasai
Horseriding safaris, mountain biking, game drives, picnics
Borana Lodge in Kenya is a working wildlife conservancy set on the edge of the Samangua Valley with panoramic views of Mount Kenya and Kenya's Northern Frontier.
Borana Conservancy is home to the inspiration for Pride Rock from The Lion King. This special landmark offers spectacular views and is reachable on foot, horseback, mountain bike or by vehicle.
Borana Lodge in Laikipia, Kenya is situated on a 35,000 acre ranch 17 miles north of the equator, with an altitude of 6,000 feet; a haven for a wide diversity of wildlife: Lion, Elephant, Giraffe, Monkeys and great herds of Antelope roam the plains while the cool forest shelters Bushbuck, Colobus Monkeys and Leopard. Borana is a rhino sanctuary, offering conservation activities including rhino tracking to account for each rhino every morning.
Borana is an eco-friendly safari lodge in Kenya, built in 1992 by local artisans. Only local building materials and dead wood from the ranch were used in its construction. The result is a supremely comfortable and luxurious lodge that is totally in keeping with its surroundings; it seems to have grown organically from the rocks on which it was built.
Borana Lodge in Borana Conservancy in Kenya overlooks a dam that fills with the floodwater flowing off the surrounding hills. It is the local watering hole for wildlife in the area so there is constant activity for guests to watch. There is also a game blind built right on the edge of the dam so that visitors may go down and see the activity at close range: Elephant swimming is a favourite.
Eco Friendly Safari Features
Fresh organic farm food sourced locally (farm tours available)
Spa using organic and natural locally sourced products
All earnings from commercial activities on Borana Conservancy support the costs of conservation
Borana Conservancy provides a safe sanctuary for rhino
Borana Lodge is a member of The Long Run (sustainable development initiative)
Borana supports local community development, water safety, mobile health clinic, education programme