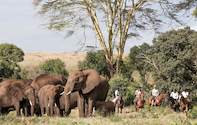 Borana Lodge activities include unique and authentic Kenya safari experiences. The pristine Borana Conservancy offers walking safaris, game drives, mountain biking, horseriding safaris, fishing, rock climbing and more.
Guests at Borana Lodge can swim in a spotlessly clean eye-level pool while watching the Elephant wandering down a well-trodden path on their way to the watering hole on their Kenya safari. The pool veranda, furnished with roman couches, is a favourite place for relaxed lunches and a chance to lay in the sun.
Just above the pool is the Borana shop. This shop gives guests the opportunity to purchase some of the best African art, as well as beadwork from the local tribesmen, handcrafted jewellery and many other knick-knacks to remember their Kenya safari.
The walls of Borana Lodge are adorned with works of art by several Kenyan artists. One of these artists - Penny Horsey is living down on the Ngare Ndare River and she welcomes guests to her studio, during their Kenya safari.
These are just some of the animals you will see around Borana Conservancy on your Kenya safari - Black and White Rhino, Wild Dog, Spotted Hyaena, Striped Hyaena, Lion, Leopard, Cheetah, Elephant, Zebra, Bush Baby, Vervet Monkey, Wild Dog, Warthog, a very large variety of buck and Buffalo. This should give you all the more reason to stay at Borana Lodge on your Kenya safari.
Borana Lodge is set in a verdant garden; almost all the plants are indigenous and chosen for their scents, colours, flowers and hardiness. Water is sufficient to keep the lawns alive, but all other plants have to rely on rainfall.
Activities
Game drives
Guided safari walks
Horse riding
Mountain biking
Farm tours
Rhino tracking with the anti-poaching team
Visit a traditional Maasai village and school
Ngare Ndare Forest excursion