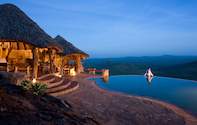 Leave your cares behind and enjoy a stay at the peaceful Ol Malo Lodge on the edge of Laikipia Plateau in Kenya's Northern Frontier District. This family-owned working ranch and wildlife sanctuary offer a variety of activities and experiences to create a superb Kenya safari holiday.
Enjoy farm-fresh food produced and grown on the ranch
Relax in rooms that offer the maximum privacy and comfort
This Kenya game lodge overlooks a much-frequented waterhole
Horse riding safari, helicopter flights, camel rides, cultural village visits
To stay at Ol Malo Lodge is to live by a different rhythm - measure the day by the timeworn patterns of nature. Wake up at this Kenya game lodge to see the mind-blowing sunrise, framing the snow-capped peaks of Mount Kenya. Celebrate the new day with a dawn ride into the wilderness. Feel the night's chill burn off with the rising of the great equatorial sun.
Keep tempo with the world by the roll of the camel's stride. Visit the colourful Samburu nomads of the North and sink with the dying sun into the waters of the pool at this Kenya game lodge. At night, luxuriate in the peace and comfort of this Kenya game lodge and tune into the magical sounds of wild Africa under an ancient starscape.
Colin and Rocky Francombe, designed and built this Kenya game lodge with a deep understanding of how it should be. They are glad to share their knowledge and love of this magical land, account their tales and adventures with its wildlife and welcome you to their extraordinary Kenya game lodge - Ol Malo. Place of the Greater Kudu.
To stay at Ol Malo which is a unique Kenya game lodge is to abandon oneself and live by another drumbeat in a wild and beautiful land.
Accommodation is in 3 individual Cottages and 1 Familly Cottage. All are en-suite and complete with designs inspired by the surroundings and culture of the indigenous Samburu people. A stone path leads to an outsized open area that offers the true wealth of the Kenyan landscape and transforms into a fascinating dining area under a star-lit, African sky.