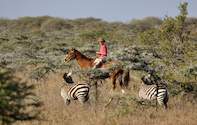 Camping under the stars, horseriding safaris, camel treks, helicopter flights, game drives and guided walks are just some of the exciting activities on offer at Ol Malo Lodge while on your Kenya safari.
Days at Ol Malo Lodge can be as jam-packed or as laid-backed as you wish. In addition to going on game drives, bush walks, swimming and enjoying the stunning views that Ol Malo is home to, there are other activities available for guests of all ages. Enjoy many activities at Ol Malo Lodge while on your Kenya safari.
Camel Rides
Ol Malo has a family of Camels that can be ridden across the plains, or around Ol Malo and makes for an interesting Kenya safari.
Horseback Safari
Ol Malo's ponies love both children and adults and there is no better way of experiencing the real Kenyan outback than on the back of one of these great friends. Get closer to wildlife as you ride onto the plains or down towards the river.
Samburu Village Visits
A visit to the friendly neighbours at Samburu 'manyatta' allows guests an insight into the unchanged, colourful Samburu culture. During your stay you can have the chance to meet the local Samburu children, visit their school, paint, learn tribal dancing and make beaded artifacts. There is also the chance to learn about hunting with spears and you can try your hand at spear throwing.
Guided Walks
Africa is not only about the Big Five – it's about the Little Five too. The guides are experts in finding the smaller things of interest – spiders, insects, harvester ants, flowers and plants which makes for a Kenya safari with a twist.
Camping Under the Stars
For the more adventurous and those who wish to leave the comfort of Ol Malo, why not spend the night under the stars? Listen to local stories by a roaring campfire, learn about the stars in the African sky and fall asleep to the sounds of the wild – this is an opportunity not to be missed.
Camel Rides
Ol Malo Lodge offers Camel walks or rides in the early morning to a suitable spot for a unique bush breakfast.
Scenic Helicopter Flights
Ol Malo has 2 Raven R44 Helicopters that can accommodate 3 guests on a 1-hour scenic flight, sundowner flight breakfast picnic flight or full-day trip. Booking must be made in advance (at an additional cost).
Overnight in the Ol Malo Treehouse
This fantastic hut lies just by a waterhole which is visited by different types of animals. Dinner and drinks will be served under the stars. Fitted with cosy beds it can be an exciting place to spend the night and you never know who could wake you up in the morning.
Mountain Biking
The hilly terrain around Ol Malo is perfect for mountain bike lovers. Bikes are available for use on a daily basis and guests will be shown the best routes depending on their mountain bike experience.
Game Spotting
Game is wild and unused to human company, which makes it all the more exciting when tracking the animals by foot, 4WD vehicle, camel or horse while on your Kenya safari.
Childrens Safari
Upon arrival at Ol Malo Lodge, each child will receive a gift pack. This will include a safari journal, small gift and postcards to friends. The safari journal can be used to identify the animals and birds, insects and plants, seen on their Kenya safari. This will then be signed by Rocky and Colin Francombe, or Nderi and is a great book to show friends when back at home and a great reminder of their awesome Kenya safari at Ol Malo.
Safari Activities for Kids
Picnics in the bush
Swimming races in the pool
Face painting in local tribal colours
Cooking African meals on a bush stove
Checking off birds and animals on a list
Treasure hunt around the Ol Malo grounds