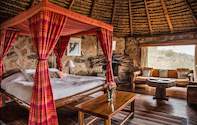 Borana Lodge has 4 stand-alone cottages with stunning views and 2 family cottages. All the cottages at this eco-friendly safari lodge are uniquely designed and blend in perfectly with the environment.
Borana Ranch offers eco-friendly safari lodge accommodation in Kenya in private and spacious guest cottages decorated in a unique style.
Each cottage at Borana Lodge has an open fireplace lit every evening by the room steward and a basket of firewood is kept in each room. The bathrooms at Borana Lodge are the epitome of luxury: spacious, clean and with exceptional views over wildest Africa.
Borana Lodge is built primarily for privacy; each cottage is exclusively sited with its own special view, totally secluded from its neighbour. This ensures guests have a chance to appreciate the wilderness and loneliness of Africa.
There is a central eating and sitting area at Borana Lodge with comfy sofas surround a huge fireplace with picture windows looking onto the valley below. A massive rosewood table in the dining room is where farm-fresh organic meals are served by friendly and attentive staff.
All food is freshly prepared in the kitchen; vegetables are produced at the local farm, freshly squeezed juice from the orchard and wines from around the world is a highlight at your eco-friendly safari lodge Kenya accommodation.
Staying at Borana Lodge offers a unique opportunity for total immersion in the life and goings-on of a working ranch where environmental and ecological considerations rank alongside the responsibilities toward the neighbouring communities be they pastoralists or agriculturalists, be it in the form of development partnerships and mobile health clinics, or the workings of the ranch's education trust.