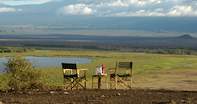 With so many African safari destinations to choose from, learn why you should safari in Kenya - the home of the African safari.
Equatorial Kenya has five neighbours and three major water bodies - the azure Indian Ocean, Lake Victoria and Lake Turkana. Kenya's cultural mosaic is Africa in miniature, with almost every main African tongue spoken and over 40 distinct ethnic groups.
Kenya is the only place in Africa where you can watch a lion-kill in the morning, then drift over coral reefs in a glass-bottomed boat off tropical Mombasa in the afternoon. Or, you can wander back in time through the Islamic island of Lamu... buy sisal baskets, semi-precious stones, beadwork, ebony Makonde and soapstone carvings in one of the hundreds of market places.
Take off on an elegant balloon safari over the Masai Mara, visit the nomadic, ochre-clad Maasai, gaze at the breathtaking views of snow-capped Mount Kilimanjaro or watch pink flamingoes rise over the Rift Valley soda lakes.
Be one of the few who witness the mid-year spectacle of over two million herbivores thundering through the Serengeti to the sweet grass of the unfenced Masai Mara, the richest wildlife sanctuary in the country.
Kenya is the most popular destination for safaris in the world! Roughly the size of Texas, it is famous for its 'Out of Africa' scenic beauty, diverse cultures and abundant wildlife. The coastline and tropical beaches are equally inviting. The wildlife is the prime attraction of Kenya safaris, that take place in some of Africa's most well known national parks including the Masai Mara, Tsavo, Amboseli, and Lake Nakuru.
A Kenya safari contains a mosaic of different cultures and traditions. The people have the natural ability to make every traveller feel at home - 'Karibu' a Swahili word meaning welcome is often heard.
Why Safari in Kenya - Home of the African Safari
Prepare yourself for your own 'Out of Africa' dream as you relive the experiences of such legendary people as Ernest Hemmingway, Karen Blixen and Beryl Markham.
If your timing is right, you could become one of the many who have had the pleasure and privilege of seeing the Great Migration of wildebeest and Zebra.
See how the Masai and Samburu tribes people live in harmony with the resident wildlife and tend their livestock's
Mount Kenya is the second highest mountain in Africa.
Your best possible view of the legendary Mount Kilimanjaro is from the Amboseli National Park