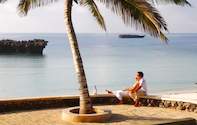 The Kenyan North Coast is one of fascinating history, natural beauty and top-class holiday resorts and accommodation. Learn more about Malindi, Watamu and Kilifi.
Malindi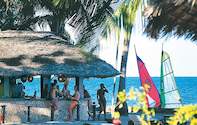 The spectacular North Kenyan coastline steeped in history has the 14th Century settlement, Malindi on the doorstep of the Indian Ocean. Malindi is a small town just 120 km from Mombasa.
Due to it's pristine white sandy beaches it is a popular tourist area. The town boasts a wide variety of fantastic restaurants offering the best seafood and some delectable Swahili dishes. There are also plenty of bars and shops, and some of the finest beach resorts in Kenya.
The Malindi and Watamu Marine Parks to the south are the oldest Marine parks in Africa and well known for the diverse gigantic corals and fish.The park has fringing reefs, coral gardens and sea grass beds, perfect habitat for marine mammals, turtles and various species of shore birds.
Activities at Malindi includes: the Marafa-Hells Kitchen (fantastic geological formations), the Gede Ruins, Vasco da Gama Pillar and Malindi museum. There is also Mamburi town, which is a 5th century town off the Lamu Road, which has a centuries old pillar tomb with porcelain bowls from the Ming Dynasty.
Watamu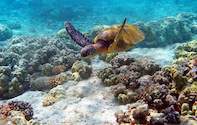 Watamu is situated on a small peninsula within the curve of Mida Creek and is surrounded by small coves, bays and broad lagoons. The coastline is fringed with coral reef keeping the waters calm and crystal clear.
Watamu offers fantastic restaurants with local handcrafts made by the friendly local population and is where the swahili culture can be explored and discovered.
The Kenya North Coast has a warm tropical climate and on its doorstep the 7 km pristine Watamu beach which lies in the protected Watamu Marine National Park, that stretches all along the coastline. A perfect place for Green Turtles to nest.
The protected National Park of Arabuko Sokoke Forest Reserve is the largest remaining coastal forest in Eastern Africa and a spectacular place to visit. The 420 km 2 . reserve is home to more than 270 bird,600 plant and more than 260 butterfly species. This must visit amazing forest also has a small herd of local elephant that you might be lucky enough to see at the watering hole.
If you have rested and relaxed enough you can take a trip/tour to visit the Bio-Ken Snake farm that has the largest collection of snakes in East Africa, visit the Rocha Bird Research Centre or find out more about the Local ocean Trust that rehabilitates injured sea Turtles.
Kilifi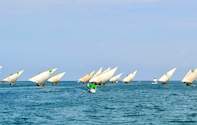 Kilifi the hidden secret of the Kenyan North Coast is a small town that lies on Kilifi Creek. It is an area that has escaped the large developments like Mombasa and Diani, but still offers beautiful resorts, restaurants and bars.
Kilifi is known for its prestigious university, beautiful beaches and for the Mnarani ruins dating from the15th century.
You can visit the Portuguese Chapel -Built in the 16th century by the Portuguese, the chapel still has its eastern wall bearing the pulpit which was painted by the Portuguese.
Watersports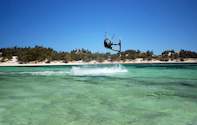 If you are interested in deep sea fishing, Kenya's North Coast is famous for its tagging and releasing of amazing game fish.
You can also have an active holiday as there are numerous activities all along the North Coast, including: SUP, kitesurfing, scuba diving, pedalos, sailing, boogie boards and snorkelling are available.
Watamu, Malindi and Kilifi are all great scuba diving areas. Kilifi also offers some wreck and canon diving: Vuma Caves Long acknowledged as one of Kenya's best dive sites, explore canyons & blowholes & keep an eye out for pelagics that sweep in from the open sea. This is one of the best places to come across whale sharks during the migration season.
Wrecks - Kilifi is also home to East Africa's newest & most exciting wreck, the MV Fish Eagle which is a must do dive for any enthusiast.
To wind down your day you can relax on the Turtle bay Dhow sunset cruise on Mida Creek, and watch the incredible sunsets.
How to Get There
Daily flights land at Malindi Airport from Wilson and JKI airports (Nairobi) by Kenya Airways, Air Kenya, Fly 540 (45 mins) and from Mombasa by Mombasa Air.
By road from Mombasa it is 120 Kms to Malindi. Watamu is 30 minutes south of Malindi, or 105 Kms from Mombasa.
Kilifi is 56 Kms from Mombasa, all flights land at Malindi and then you transfer by road.
Kenya North Coast Accommodation