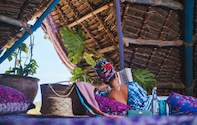 Kizingo Eco Lodge is a secluded beach lodge in Kenya offering barefoot luxury accommodation in Lamu Island just off the East Coast of Africa.
Why We Love it and You Will Too
Spacious thatched beach chalets have an open-air design letting you enjoy the refreshing sea breeze
Meals made with love from freshly sourced local ingredients are mostly vegetarian and line-caught fish
Enjoy an afternoon siesta on the swing bed in the shade of your beach banda
Socialize at the open-air Sand Bar with views of the ocean and superb sunsets
Explore Lamu Town, creek fishing, swimming with dolphins, dhow sailing and snorkelling
Your Kizingo Eco Lodge Experience
Kizingo Eco Lodge offers laidback accommodation in Lamu, an island off the Swahili Coast. This lodge has one of the most enviable positions nestled in sand dunes on the south-western tip of Lamu Island.
Kizingo Eco Lodge has been built in an eco-friendly manner with 8 uniquely designed and decorated spacious thatched bandas (chalets) overlooking a stretch of pristine white beach and the warm tropical waters of the Indian Ocean.
This beach lodge in Kenya offers a barefoot luxury escape where you can get away from it all. The resort offers a range of leisure activities such as kayaking up Kipungani Creek and enjoying bird watching, sunset sailing trips in traditional Arabian-style dhows, snorkelling trips where sightings of Dolphins are almost guaranteed or just relaxing on the beach.
Unwind and enjoy panoramic views of the dunes and mangroves at the Kazuku Bar & Restaurant, which is located outdoors in a serene open-air sanctuary. When gazing to the south, one can see the broad sandy point where the channel joins the Indian Ocean, this is where Kizingo derives its name from.
When entering the restaurant you will see the walls are beautifully decorated with handcrafted Kenyan crafts and grass weavings manufactured in the Kipungani community, as well as colourfully recycled glass bottles and hand-painted tiles.
Kizingo Eco Lodge offers a barefoot Kenya beach holiday where you can stroll along the beautiful beach before sipping cocktails from the bar or head out on a tour of the interesting historical Swahili town of Lamu with its vibrant markets and interesting mosques and museums.
The town of Lamu is a World Heritage site as it is one of the last strongholds of the vibrant Swahili culture and architecture. There are no roads on the island so most people get around on foot, on donkeys or by boat.