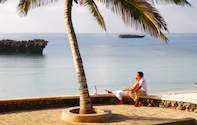 Dazzling beaches, sailing, sunset cruises, deep-sea fishing, and snorkelling - welcome to Hemmingways Watamu in Watamu Marine National Park, Kenya.
Head just two hours' north of Mombassa along Kenya's central coast and you'll find yourself within the oh-so-glorious Turtle Bay. It's tucked away within the protected Watamu Marine National Park - once the place where Ernest Hemingway is said to have often visited for some big game fishing.
This is also where you'll find Hemingways Watamu, an iconic and historic Kenyan hotel which has stood here for over 30 years, and aptly named after the eponymous author. As a side note, it is also said that while he was in the area, he allegedly never left the bar, and you as a guest at this luxury boutique hotel, can take this as an allegory.
At Hemingways Watamu, feel free to be as busy or as lazy as you like. With the recent renovations, this renown hotspot is even more of an absolute catch, combining that old-time charm of a fisherman's paradise, with a fresh coat of opulence and modernity. Those looking to return will find the main area redesigned to feel much lighter, airy and spacious, with a second swimming pool.
If it's your first time, expect a fine selection of rooms and apartments, all boasting ocean views, no matter which one you go for. Each is well-equipped with all the mod cons you could want, from en-suite bathrooms, air conditioning, mini-bars and ceiling fans, to comfy double beds with Egyptian cotton linen and free Wi-Fi. Yes, please!
If you're up for kicking up a little sand or making a splash, there are more than enough activities to keep you occupied, from sailing to diving, snorkelling, paddleboarding and sunset cruising. Aside from embracing beach life, try a spot of shopping at Malindi Town and don't miss the Gedi Ruins (an abandoned Swahili city) or the wildlife-rich Mida Creek mangroves.