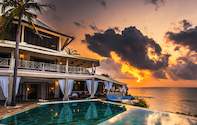 Alfajiri Cliff Villa overlooks the Indian Ocean, all the rooms are beautifully decorated with artefacts from Africa and the Far East. This exclusive-use villa in Diani Beach, South Coast Mombasa provides a glamorous getaway home.
Exclusive use of the property
Excellent quality of service from professional staff
Healthy Mediterranean cuisine
Perfect accommmodation for your family
This bright and airy Caribbean style private exclusive-use villa in Diani Beach has its rooms beautifully decorated, with artefacts from Africa and the Far East, is considered by many visitors as one of the finest private houses and hotels in Kenya on the Kenyan Coast. Alfajiri overlooks the Indian Ocean and its elevated position ensures privacy and un-equalled panoramic views of paradise.
The theme is large glass windows, ivory Danish floors, wooden beams, Lamu doors and impressive African and Far Eastern Artefacts. Most of the furniture is made on the property and some is exported. The gardens are meticulously maintained and include many palms from Alfajiri's nursery.
Two large gazebos with huge hand carved sofas with cushions dominate the front of the house. A stretch swimming pool sits on the edge of a small cliff merging into the sea and the horizon. Diani Beach is considered one of the best in Kenya and it is possible to walk for five miles to the north and 5 miles to the south.
Fresh seafood is brought twice daily to order from the beach and includes some of the best crab, prawns, lobster, octopus and sea fish available. The food at Alfajiri is very healthy with a Mediterranean influence with oils, Parma ham and some cheeses flown in weekly from Europe. The salads and fresh vegetables come daily from local farms and the fruit is handpicked from trees and bushes around Diani.
Child Policy
Children of all ages are welcome. Two ayahs (nannies), who both speak English, are available 24 hours a day. Plenty of games are available as well as a TV if needed. Alfajiri Cliff Villa is the perfect place for families with small children that are looking for a relaxing time and to have their children well looked after, all in absolute privacy.