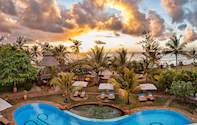 AfroChic Diani is a Kenya beach hotel in Diani Beach that offers guests the ideal beach accommodation to end off a perfect Kenya safari.
Known as one of Kenya's best-kept secrets, AfroChic Diani is the ideal retreat for travellers seeking an exclusive Kenya beach experience. Spectacular views of the exotic beaches can be indulged with a whiff of the Indian Ocean from AfroChic Diani. Diani Beach accommodation is offered in a choice of 10 guests rooms that come equipped with modern amenities for a comfortable Kenya beach getaway.
This exclusive Kenya beach hotel is located in Diani Beach, lying south of Mombasa, offering guests sweeping views, warm beach waters, comfortable accommodation and a chance to embark on daily beach adventures.
Guests of AfroChic Diani can spend an afternoon of leisure on a hammock, indulging in soothing massage therapies or taking up aquatic adventures. Water activities on offer include kayaking, bodyboarding, snorkelling, scuba diving, snorkelling and many more. Golfers are in for a treat as this Kenya beach hotel is located minutes away from a championship golf course where they can tee off.