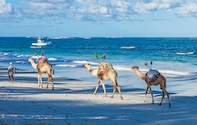 Make the most of your leisure time at AfroChic by venturing on the many beach activities offered at Diani Beach on the beautiful Kenyan Coast of East Africa.
Scuba Diving
Visit the Dive Centre for first class diving excursions at Diani Beach. One boat trip per day, and an additional one in the afternoon, sets off for a unique experience of the Diani Marine. The excursions are ideal for both beginners and intermediate divers.
Golfing
AfroChic Diani is located only a 3 minute drive from a championship golf course. Guests can test their hand at golf among luscious tropical vegetation, a profusion of birds, and watch as the occasional monkey makes its way through the golf course.
Snorkelling Excursion
Visit the reputed Kisite-Mpunguti Marine Park to witness a diversity of species, coral quality and reef buildup during a leisurely snorkeling adventure. Guests can swim the pristine waters of the Indian Ocean along with dolphin, turtle, stingray, moray eels and a myriad of other sea creatures.
Water-based Activities
The stunning and relaxed setting of AfroChic Diani at Diani Beach makes it the ideal location for water-based sports. Guests can spend their leisurely afternoons on the beach on sea kayaking, bodyboarding, kitesurfing and windsurfing adventures.
Massage Treatments
Guests can treat themselves to soothing massages at the hands of specially trained spa therapists. Indulging manicures and pedicures are also offered at AfroChic Diani.