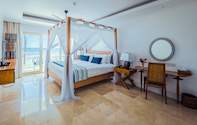 On an East Africa holiday at Hemingways Watamu, guests will find stylish Kenya coast accommodation, relaxing activities as well as exciting excursions. This way to your room:
Each room at Hemingways Watamu boasts an ocean view and is only just a few steps in the sand to the beach. Depending on what you're looking for, rooms range from superior to executive, but whichever you decide on, each offers a spacious haven well-equipped with en-suite bathrooms with showers.
There's also air-con, free Wi-Fi and generously stocked mini-bar fridges, along with massive windows and outdoor patios to amplify the views. As for the interiors, it's all clean, bright and airy, with handcrafted wooden furniture, colourful duvets and whitewashed walls. Just lovely!
Why we love it and you will too!
Step out of your room and within a few steps you'll be wiggling your toes in the bleached-white sand and the turquoise waters of the Indian Ocean. But, since all 39 rooms come with sea-views of the bay, you'll barely need to venture out at all!
The revamped botanical swimming pool is the hub of Hemingways, laden with tropical plants, it truly feels like paradise. Saunter over to The Rock Bar to top up on something crisp and cold while soaking up the endless views of those iconic white beaches.
Along with a tennis court, two pools and a private spa, you can even hop on one of the electric Tuk-Tuks on standby to whisk you off on a local adventure to the nearby town, or further afield.
Opt for sunset cruises on Mida Creek in a traditional Dhow. Try a private dinner on the beach or sundowners and snacks at the local and well-loved Hemmingway Bar
Expect the most superb service. Many of the original Kenyan staff who have been part of this iconic hotel family over the last 30 years continue to be part of the incredible Hemingways team, ensuring the charm and warm hospitality remains the same as ever.