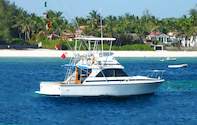 Do as little or as much as you like at Hemingways Watamu on your Kenya beach vacation, with water-based activities available for you when you so choose to leave the sun-lounger.
Go On, Just Relax
If you manage to leave the comfort and luxury of your room, Hemingways Watamu offers more then a few options to engage in some much-needed, all-out relaxation. Take your pick from the ocean just a few steps away, two incredible swimming pools, and a brand new spa. You'll have no shortage of perfect spots for post-safari chill time.
Play by the Sea
Located on Turtle Bay within the protected Marine National Park of Watamu, Hemingways offers a great variety of water sports for enthusiasts, or beginners. Try your hand at paddle boarding, kite surfing and sunset cruising. Scuba diving is also excellent and snorkelling can be done straight off the main beach with complimentary equipment provided. Keep an eye out for visiting whale sharks, manta rays and turtles.
Cast a Line
Game fishing is always a popular activity for many visitors to Watamu and there are four boats available at Hemmingways, all fully-equipped for avid deep-sea fishing enthusiasts. The official fishing season begins in July, reaching its peak tourist season from October to November. Big-billed fish (marlin and sailfish) can be typically reeled in from November through April.
Exploring Watamu
Watamu Marine National Park offers sublime scuba diving and snorkelling opportunities among pristine coral and multi-coloured fish. But, back on land, don't miss a visit to the nearby Gedi Ruins, an abandoned Swahili city, as well as a Mida Creek sunset cruise through its mangroves and wetlands. There are also shopping trips to Malindi Town on the go, with the company of a guide and an electric tuk-tuk to take you there and back easily.
Beachside Dining
Hemingways Watamu features an al fresco brasserie-style restaurant with a focus on fresh local seafood with a hint of delctable Swahili spices. Gede Café Bar is a more informal café bar serving fresh pastries, paninis and pizzas near the botanical pool. It serves possibly the best Gelato outside of Italy! As for those sunset drinks, Hemingways Bar retains the historic feel of the original Hemingways Watamu, along with those incredible panoramics views of the bay.