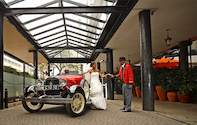 Looking for the best Nairobi hotels in Kenya to start or end your African safari? These historic Nairobi hotels are recommended for their excellent service and grand accommodation.
Norfolk Hotel - Nairobi

The Norfolk Hotel is one of Nairobi's oldest hotels, opened on Christmas Day of 1904. It is situated in the heart of Nairobi a short distance from Jomo Kenyatta International Airport and from Nairobi's main business and shopping district. The Norfolk comprises 27 luxury suites and 143 rooms located around a tropical garden. All rooms have an en suite bathroom with bath and shower, a minibar, TV and radio, direct dial telephone and air-conditioning.
The hotel has 3 restaurants and the Cin Cin Bar, a swimming pool, a hair and beauty salon, shops and newsstands and a health club with a fully equipped gym, saunas, steam rooms, aerobics classes and massage therapy. The Norfolk offers a conference venue that can accommodate also ideal for weddings.
A full range of audio-visual presentation equipment is available as well as comprehensive secretarial and business service, with e-mail and web browsing facilities. Long established as the starting point for safaris beyond the capital, trained and knowledgeable staff at Norfolk can advise and arrange a wealth and variety of sightseeing trips and safaris.
Older than the London Ritz and younger than The Savoy, no other hotel in Kenya has as rich a history as the Norfolk Hotel.
Visit The Norfolk Hotel in Nairobi
Sarova Stanley - Nairobi

Situated in the heart of Nairobi's city centre and only 20 minutes from Jomo Kenyatta International Airport, The Stanley is one of Nairobi's oldest hotels being opened in 1902. The spacious foyer, with it's marble floors, leather furniture, and antique brass and wrought iron fittings, recalls a graceful era of fine furnishings, grand living and Victorian elegance.
The luxurious rooms blend Victorian grandeur and comfort with all the amenities of the 21st century. There are 217 rooms in total, all of which have air-conditioning, direct dial telephones, direct e-mail access, a safe, mini bar, TV, en suite bathroom with bath and shower facilities and a hairdryer.
The Club Rooms, the most spacious rooms in the hotel, offer pure indulgence such, luxury bathrobes and slippers, deluxe toiletries and daily room courtesies. The expansive Executive suites have spacious bedrooms, walk-in wardrobes, en suite lounges and two bathrooms. The upper floors offer new heights of luxury in the lavish Presidential, Penthouse and State suites.
The hotel's facilities include an outdoor swimming pool, three restaurants, a bar, a curio shop, a travel agency, a Newspaper stand, a gift shop and a chemist. The fully equipped health club has qualified instructors, cardiovascular equipment and free weights, aerobics classes, saunas and steam rooms.
There are nine function rooms with conference, banquet and reception facilities. A fully equipped business centre with all office and secretarial services is also available.
Visit Sarova Stanley in Nairobi
Giraffe Manor - Nairobi Suburbs

Giraffe Manor was built in 1932 and is situated on 120 acres of forested land just eight miles out of Kenya's capital, Nairobi. In 1974 Jock Leslie-Melville bought the house and the African Fund for Endangered Wildlife (A.F.E.W) were founded.
The new owners of the house translocated five babies of the highly endangered Rothschild's giraffe and began, for the first time in history, to breed them successfully. When Jock died the old colonial-style house was opened to the public as Giraffe Manor. The house consists of a dining room, bar and lounge.
There are 12 bedrooms, that consist of suites and superior rooms. The Rothschild's giraffes casually wander around the grounds of Giraffe Manor, sometimes accompanied by warthogs, guests are invited to feed them and take photographs.
The African Fund for Endangered Wildlife has a visitors centre on the same property, its main aim is to educate people, primarily school children, about animals and the environment. This centre is separate from the Manor and day visitors do not go near the house although guests from the house are welcome to visit the centre.
Visit Giraffe Manor in Nairobi