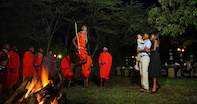 © Maasai tribe entertain family on a safari in Kenya.
This Classic Kenya Safari allows you to experience a wonderful Kenya family holiday from the highs of Mount Kenya to the spectacle of Lake Nakuru, Lake Naivasha and the impressive wildlife of the Masai Mara and the beach paradise of the coast.
Our 12 Day Classic Kenya Family Safari offers the best of Kenya, taking you on a captivating and magical journey through the jewel of East Africa, with something special for the whole family. On your Kenya family holiday see rolling golden savannahs, stampedes of antelope, Lions roaring in the twilight, Masai warriors tending to their cattle and dense forested areas teeming with birds and rare wildlife.
Tickle the velvety soft trucks of Elephants at the Daphne Sheldrick's Elephant Orphanage and admire rare Rothschild Giraffes at the Langatta Giraffe Centre in Nairobi before travelling to the peak of Mount Kenya, to roam the Sweet Waters Reserve, stopping to visit the Rhino Sanctuary in the Ol Pejeta Conservancy. Visit the Great Rift Valley soda Lakes of Naivasha and Nakuru, watching hundreds of Pink flamingos. Enjoy High Tea at Joy Adamson's Elsamere followed by a river safari on Lake Naivasha.
Trail the great Wildebeest migration and their shadowing predators in the Masai Mara Game Reserve during a Kenya wildlife safari. Dance with Masai warriors during a visit to a traditional homestead. Be whisked away to white sandy beaches; palm fringed skies and shimmering turquoise seas of Mombasa's tropical shores.
Day 1: Nairobi
Today is the start of your safari in Kenya's bustling capital. Your family are met at the airport and transferred to your hotel. Dependant on the time of arrival you may have time to explore a local market or the city, and surrounds, taking in old colonial architecture and the brightly coloured crowds to get a feel for Africa. In the evening you meet your guides and any fellow travellers for a briefing about your epic safari.Attractions include the National Museum, home to most of the great prehistoric finds made by the Leakey family in East Africa, from Ethiopia to the Olduvai Gorge in Tanzania. The Bomas of Kenya is a living open-air museum of the tribes of Kenya, including regular dance performances.
Day 2: Mount Kenya/Sweetwaters Wildlife Reserve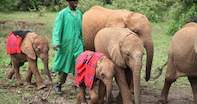 Begin your Kenya wildlife safari experience at Daphne Sheldrick's accomplished Elephant Sanctuary. Admire their playful nature and experience a close up encounter with Africa's giants. We move on to the Langatta Giraffe Sanctuary to see the rare and decreasing Rothschild Giraffe. In the afternoon we head on towards superb Mount Kenya (5199 m), the second highest mountain in Africa.
You will have the late afternoon free to enjoy a self-guided walk in the forest around the base of Mount Kenya, known for its prolific bird life and black and white Colobus monkeys.
Day 3: Mount Kenya/Sweetwaters Wildlife Reserve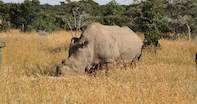 On this day your Kenya wildlife safari truly begins, after breakfast revel in your first game drive in the Sweetwater's Reserve, stopping to visit the Rhino Sanctuary in the Ol Pejeta Conservancy, which has been instrumental in saving the highly endangered Black Rhino. Visit the Chimpanzee sanctuary which is an ideal opportunity to learn more about these incredible animals.
Return to camp and enjoy a cultural talk with Masai warriors, learning about their customs and nomadic way of life and watch as they perform a fascinating traditional dance.
Day 4: Lake Nakuru
After breakfast depart for Lake Nakuru, stopping en-route at various Great Rift Valley viewpoints before enjoying lunch on arrival and experiencing a game drive in the extraordinary national park. Lake Nakuru is a shallow soda lake, renowned for its huge concentration of flamingos and over 460 species of birds.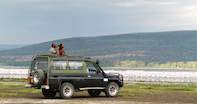 The Lodge has a special activity room for children, well stocked with games such as archery, darts, table tennis, movies and activities to ensure they have a memorable Kenya family holiday. Children can also enjoy activities such as swimming, walking safaris and bird-watching within the secure premises. They have specially trained staff who escort the children and facilitate activities for children. (Breakfast, Lunch and Dinner)
Day 5: Lake Naivasha
Today we travel to Lake Naivasha. In the afternoon we enjoy High Tea at Joy Adamson's famous Elsamere farm, a British naturalist and author of the international best seller "Born Free". The farm house was bought in 1967 and is now a conservation centre, focusing on lake ecology and creating environmental awareness. We visit the museum and the nursery on the Elsamere Farm before heading to our lodge for the night.
Day 6: Lake Naivasha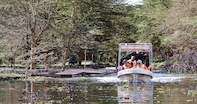 In the morning embark on a boat safari on the lake, cruising along the shimmering surface, searching for hippos and other rare creatures along the edge of the lake. On this afternoon of your Kenya family safari you can enjoy a guided nature walk.

The lake is a swamp area of spectacular scenery with good opportunities for game and bird watching. Experiencing a natural habitat by foot is probably one of the best ways to get close to nature and submerse yourself into the environment.
Day 7: Masai Mara National Reserve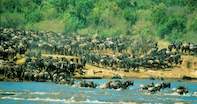 Today you will head south-west to the next destination, the Masai Mara - arguably one of the finest game reserves in Africa. Set out for a late afternoon game drive in the park. The Mara is known for its rolling green plains and riverine woodlands.

The jewel in Africa's crown the Mara is host to the most spectacular array of wildlife and is the site of the famous Wildebeest Migration. Lion are found in abundance throughout the park, as are elephant, giraffe, a variety of gazelle species and zebra, cheetah and leopard.
Day 8: Masai Mara National Reserve
Today on your Kenya family holiday, a full day is spent exploring the park on both morning and afternoon game drives. For those, who would like to experience a truly magnificent view of the panoramic vistas of the park, optional hot air balloon rides are easily booked and travellers are woken early to glimpse the golden dawn breaking over the Savannah plains.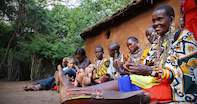 Game viewing is never dull in the Mara, and patience is often rewarded with unique sightings: a pride of lion stalking their prey; a solitary leopard retrieving its kill from the high branches of an acacia tree In the afternoon we enjoy a fascinating encounter with Kenya's Maasai herders during a cultural homestead visit.
Day 9: Nairobi - Mombasa
In the early morning we set and travel back to Nairobi, passing coffee plantations and bustling villages. On arrival at the airport board a regional flight to Mombasa. You will arrive in a fascinating city with welcoming smiles from the locals, exotic seafood cuisine on offer, and striking cultural influences from Arab, Swahili, British and Portuguese history.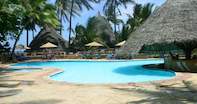 Your family are transferred from the airport to your Kenya beach accommodation. You have the remainder of the day at your leisure. The hotel offers a variety of optional water and sports activities, from fishing, tennis, volley ball, glass bottom boat rides, snorkelling and daily entertainments and family shows.
Day 10: Mombasa
You can spend the day roaming in the city on a guided tour of Mombasa Old town. Marvel at Fort Jesus, the natural deep water harbour of Kilindini and the elaborately carved buildings influenced by Mombasa's trade culture and Portuguese and Islamic architecture. Wander through open air markets, local bazaars, visit handicraft carvers and walk through the famous curvy alley-roads during your Kenya family holiday.

Perhaps spend your evening on a Tamarind Dhow cruise on a traditional dhow and enjoy the perfect combination of good food, music and romantic atmosphere on this leisurely cruise in Mombasa Old Harbour.
Day 11: Mombasa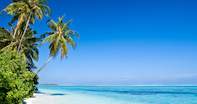 Today, you can spend your time relaxing on the beautiful beach in front of your Kenya beach accommodation, soaking up the island spirit. Enjoy windsurfing, canoeing or diving amongst the multi-coloured coral reefs.

You can choose from a variety of optional activities such as a day trip to Malindi and Gedi; explore the rainforest during a nature walk in Bamburi; learn about the local tribes during a visit to the Ngomongo Village. Explore the Kisite Marine National Park and Wasini Island on a full-day boat tour with lunch and many snorkelling opportunities. (Breakfast, Lunch and Dinner Included)
Day 12: Mombasa
You have the final morning of your Classic Kenya Family Safari at your leisure to enjoy relaxing in your Kenya beach accommodation before you are taken to the Mombasa International Airport for your flight home. Go for a last walk along the beach or have a refreshing dip in the sea before breakfast.
Included
Arrival & Departure airport transfers
Transportation as per itinerary
Accommodation per itinerary or similar
Meals as per itinerary
Services of an English speaking driver/guide
National park & game reserve entrance fees as per itinerary
Excursions & activities as per itinerary
All meet and greet services
Not Included
Optional excursions and activities not listed in the itinerary