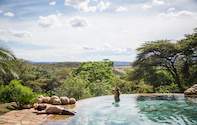 This safari camp in Masai Mara Kenya can be accessed via direct flights out of Nairobi or by using other flights that land at a local airstrip which are then followed by a road transfer.
Cottars 1920s Camp is situated in a private conservancy at high altitude, overlooking the Masai Mara and Serengeti. Enjoy a Kenya luxury safari far from the crush of busy tourist routes and savour uninterrupted game viewing with exceptional guides. Millions of Wildebeest and Zebra migrate across the Serengeti and Masai Mara between July and October every year. See them on the move with Cottars Camp game drives.
The Cottar family have been in the safari and guiding business since 1919, and active members of the Mara community for many generations. You will feel this deeply historic connection when you visit the camp, with its authentic furnishings and welcoming ambiance.
The Cottars Conservancy occupies 6 000 acres of hilly terrain on the border of the Masai Mara Game Reserve. The land is pristine and untouched with abundant wildlife. Game viewing is excellent and there are regular sightings of Rhino, Lion, Elephant, Cheetah, Giraffe, Buffalo, Wildebeest and Zebra plus migratory species. Colobus Monkeys and Verreaux Eagles can be seen in the hills nearby.
Cottars 1920s Safari Camp is situated in a south east position, located 1km (0.6 miles) away from the Masai Mara Game Reserve and adjoining the Serengeti National Park.
By Air
Cottars Camp airstrip is just 15 minutes drive from the lodge. You can fly to this airstrip twice daily from Wilson Airport in Nairobi on certain airlines only. Private air charters from anywhere can arrange to use the airstrip for guest transport anytime before 17h00.
All other airlines and air charter flights use the Keekerok Airstrip for Masai Mara connections. Keekerok is a 90 minute drive from Cottars 1920s Camp (transfers can be arranged). Keekerok Airstrip is connected by various flight connections from / to Nairobi, Mombasa, Ukundu, Amboseli, Shaba, Samburu, Lewa and Nanyuki.
GPS Co-Ordinates for Cottars 1920s Camp Airstrip
01:41.016S, 35:20.989E