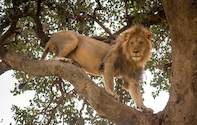 Cottars Camp offers night drives and game walks in a private wilderness in addition to traditional Masai Mara game drives on a Kenya Luxury safari. Cultural visits with the Maasai and many interesting safari experiences highlight sustainability and community development.
See Big Five game on a full range of Masai Mara safari activities at Cottars 1920s Safari Camp.Accredited, highly qualified guides know just where to look and what to do on daily game drives in the exclusive Cottars Conservancy or in the Masai Mara Reserve. Guided bush walks, night drives and running with a Maasai Warrior are a must for a truly unique perspective on life in the bush.
The Cottars Conservancy is home to abundant wildlife at any time, but you can also choose to visit during the annual wildebeest migration. You'll be able to see countless Wildebeest and Zebra moving en masse over the land closely followed by a range of predators. View Elephant, Rhino, Lion, Cheetah, Buffalo, Giraffe, Zebra and Wildebeest plus migratory species. Verreaux Eagle and Colobus Monkeys can be seen in the hills behind camp. Back at camp, you can savour superb service in classic surroundings, take a dip in the pool or retreat for a soothing massage.
Impact Safari Experiences
Pangolin talk
Conservancy talk
Wild dog talk
Vulture Rehabilitation and Raptor talk plus experience
Medicinal plant walk and talk
Mara predator project experience
Carbon footprint, recycle and upcycle talk and experience
Foraging for wild food and foraged dining experience
Identification of wildlife early morning walk
Talk on the culture and community of the Maasai people
Half day with Mara Elephant Project
History of safari talk
Stargazing
Reforestation seed dispersal activity
Professional photography experience