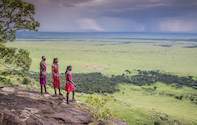 The luxurious Angama Mara enjoys an enviable position right on the rim of the African Rift Valley, overlooking the Mara Triangle in Kenya.
Angama Mara is a mere 10-minute drive along a private road to the Masai Mara National Reserve.
Angama Mara is just a short and scenic 45-minute flight from Nairobi, Kenya's capital. You can get there aboard one of the daily scheduled flights from Wilson Airport, which is well connected to all major hubs via carriers like Kenya Airways, Emirates, AirFrance-KLM and British Airways.
You also have the option of travelling via a private charter from Jomo Kenyatta International (the city's main airport). Remember, the lodge boasts its very own airstrip, and our Travel Experts are always on-hand to help you sort out the finer details of your travel itinerary.