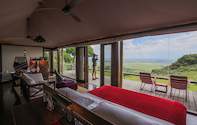 Best described as a place somewhere between heaven and earth, Angara Mara's glass-fronted safari suites offer the most breathtaking views over the African Rift Valley.
Angara Mara consists of two camps made up of 30 canvas-and-glass tents. Spacious and beautiful, each is designed to emphasise the acacia-dotted plains of the Mara just yonder. The Pavilion is located between the 2 Angara Mara camps and has a safari shop, infinity swimming pool, library and fitness room.
The Luxury Tented Suites at Angama Mara feature 11-metre long floor-to-ceiling glass fronts that are hard to top, as are those private decks complete with rocking chairs. You'll even find a dedicated writing desk to sit down at to tell loved ones back home just how beautiful the views are (yes, there is WiFi available)
You'll also love the vibrant splashes of Masai red in the decor, as well as the massive beds where you can sneak in a late afternoon nap. As for the bathrooms, these are shiny and spectacular, with roll-top baths and twin basins.
There are special drinks cabinets should you like a nightcap or a crisp sundowner as the sun slips below the horizon. And if there is anything else you need, just ask your butler. And since Angama Mara welcomes children of 6 years and older, families can make themselves at home in one of the interconnecting units.