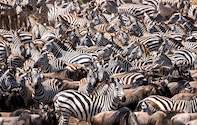 Angama Mara guests can enjoy a tailor-made Masai Mara safari experience, with activities like hot air ballooning, walking safaris, and cultural visits to the neighbouring Maasai village.
Game Drives and Gnus
At Angama Mara, game viewing is the order of the day and you can get up close to the starts of the show on guided game drives led by the team of professional rangers and trackers.
Each excursion offers something different, from Great Migration crossings of wildebeests at the Mara River to lions finishing off a fresh kill. If there's a particular animal you'd like to see, don't be shy to ask your guide. They're always happy to tailor your drive according to what you are most passionate about, be it a perfect shot of the summer storm clouds rolling in or herds of parading ellies.
Hot Air Balloon Rides
Along with game drives, you can also dabble in hot air balloon rides to secure a bird's eye view over the Maasai Mara at first light. After a short drive to the launch site from camp, you'll get a basic safety briefing before taking to the skies. This is one of the most peaceful and iconic ways to experience the bounty of wildlife found within the reserve. Don't forget to pack the camera!
Walk into the Wild
Whilst staying at Angama Mara you can also embark on a guided walking safari for a unique perspective of the surrounding wilderness as long or as short as one desires.
These immersive walks are led by Maasai naturalists and offer some exceptional birding opportunities and sightings of the rare oribi antelope. Aside from being an opportunity to stretch out the legs and walk off some of those hearty meals, it's also an opportunities to learn more about the art of animal tracking as well as the ins and outs of the Maasai traditions.
Picnics and Pampering
While game viewing activities take centre stage here in the Masai Mara, Angama Mara also places a healthy emphasis on taking things at your own pace. Along with action-packed game drives you can also spend your day sprawled out poolside, or with your nose in a good book at the library. There's on-site spa, if massages and manicures are more of your thing. You can even head up the kopje nearby with a picnic basket packet with bubbly and treats prepared by the chef.