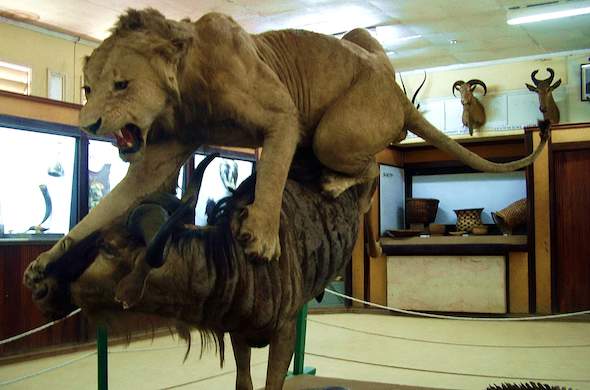 Display at Kisimu Museum in Kenya.
Kisumu Museum, located in Kenya's third largest city, has exhibits that include cultural history from this region.
Kisumu is a port city on the shores of Lake Victoria, in the western region of Kenya. The third largest city in the country, and offers some fascinating attractions to visit.
Kisumu Museum is made up of a series of outdoor pavilions, some of which contain live animals such as a variety of fish from Lake Victoria. Other creatures found at the museum include Mambas, Puff Adders, Spitting Cobras and other venomous snakes found in Kenya.
Other exhibitions include weaponry, jewellery and farm artefacts used by people in the Nyanza Province. One pavilion in the museum houses rocks with Tara art work on them.
The most important exhibition thus far has been the Ber-gi-dala exhibition a traditional Luo homestead and Luo artefacts. This UNESCO-sponsored exhibition consists of the house, livestock corrals and granary of a Luo man and explains the origins of the Luo people, their migration to western Kenya and their customs and beliefs.
Kanam Prehistoric Site
Kanam is located along the shores of Lake Victoria near Homa Mountain. This archeological site was gazetted in 1933, after Louis Leakey's expedition discovered a fossil human mandible together with Pleistocene fauna and pebble tools. Recently researchers have found, at this site,, palaeontological bones dating between 1 and 6 million years ago.
Simbi Nyaima
Simbi Nyaima means the village that sank. Simbi Nyaima is a crater lake, a few kilometres from the lake shore of Lake Victoria. The Luo people attach great importance to this site because of this legendary story:
It is said that the people of Simbi were celebrating their success at the chief's home, when an old woman appeared, looking for shelter and food. But the chief chased her away and threatened her. She was forced to leave. However, one woman took pity on her and offered her some food and a warm bath. The old lady advised this woman to leave the village with her children and husband. No sooner had they left the village, when a heavy storm swept through the whole village and it sank.