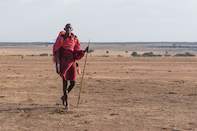 © Shem Compion
The Maasai who live in the Amboseli-Tsavo region belong to the Nilotic ethnic group and migrated down Africa's great river, the Nile, from about the 15th century AD. For five centuries they were masters of almost the entire Eastern Rift Valley.
Their fierce independence and fighting spirit allowed them to live in harmony with the seasons and the prodigious wildlife of the area, which they roamed as semi-nomadic cattle herders. Much of their culture and behaviour is designed around a near-religious reverence for their stock.
But the arrival of European settlers with their superior technology and land hunger drove the Maasai into the more arid regions. And then, as if to add insult to this historical injury, the colonial government declared game reserves in the places they did not want or could not tame.
The Maasai, thus denied access to the best grazing and water, as well as to their traditional hunting grounds, had reason to feel aggrieved and still do. In some ways the safari industry has acted as a neo-colonial force, claiming the land as wildlife preserves that pastoralists would want access to. This is ultimately good for the land, but not for the indigenous people.
Although various levies are paid, or supposed to be paid, to these people as some sort of compensation in order to facilitate development, it has worked poorly to date. Forward-thinking safari operators have begun creating conservancy partnerships with surrounding communities, but in some places, it has been a case of "too little too late".
The Tsavo and Amboseli area conservancies seem to be working fairly well, with the Satao Elerai Conservancy standing as a healthy example of how things can and should work between a safari operator and the local community.
Satao Elerai Lodge lies in a 5,000-hectare tract called the Kitenden Wildlife Corridor, through which wildlife is free to roam from the Kilimanjaro Forest Reserve in Tanzania to Amboseli and from there to Tsavo West National Park and the Chyulu Hills National Park. The lodge and land are leased from the Elerai Maasai community and the operator pays a proper rental as well as bed levies and conservation fees into a conservancy trust.
The Maasai resisted colonial interference as strongly as they now do attempts by the Kenyan government to encourage them to abandon their traditional ways. But one thing, more than guns or steel, colonists or government decree, that will bring change to these proud people, is education.
Within one generation we can expect to see young Maasai — particularly the girls — moving away from the bounds of this patriarchal culture, and probably away from the dusty cattle-herding villages in this and other areas.
For now though the partnership between the Satao Elerai Conservancy and the Maasai community is a solid one and one that, if it endures, ultimately determine the long-term fate of the people and wildlife in the region.
By David Bristow