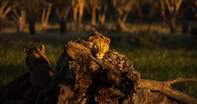 This 10 Day Lewa, Meru & Mara Premier Safari is an exclusive East Africa safari package staying in luxury camps, in some of the best game viewing areas in Kenya.
Highlights
A safari package showcasing the best of Kenya
A chance to see highly endangered wildlife including black and white rhino, Grevy's zebra and cheetahs.
Visit three distinctly different habitats on one premier safari
See first-hand successful conservation at work in Lewa Wildlife Conservancy
View the unique semi-arid adapted wild animals in Meru National Park: gerenuk, Somali ostrich and reticulated giraffe
Large concentrations of big cats, such as leopards, cheetah and lion
Large concentrations of elephant and buffalo in all three areas.
Your Safari Experience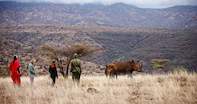 This 10 Day Lewa, Meru & Mara Premier Safari allows you to discover Kenya's vibrant wildlife in three vastly different locations. Lewa is a private conservancy with a strong conservation ethic. It is home to the largest population of endangered Black Rhino in the country as well as the other members of the big five.
From Lewa travel by road, giving you an opportunity to view the changing landscape, as the vehicle starts to climb towards Mount Kenya, en route to Meru National Park. Meru is an utterly unspoilt part of Northern Kenya. With its thirteen rivers criss crossing throughout the park, lined with palms and riverine forest, to the semi-desert plains with giant baobab trees interspersed with kopjes (small hills in a flat area) Meru is a fascinating place.
Continue the journey by air to the iconic safari destination the Masai Mara, home of the famous great migration, the circular movement of over a million Wildebeest, Zebra, and Thomson's gazelles in search of fresh grazing. Territorial predators such as lion, leopard, cheetah and hyena closely follow these massive herds. The expansive plains also abound with other animals such as Masai giraffe and great herds of elephant. This truly is the safari of a lifetime.
Day 1: Lewa Wildlife Conservancyi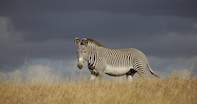 Start your safari by boarding a scheduled flight to Lewa from Wilson Airport in Nairobi. After landing at a bush airstrip, a guide will be there to meet you and drive you to the camp, your home away from home for the next 3 nights. Delight in a mini game drive en route to the lodge spotting Grevy's zebra and reticulated giraffe.
Day 2 - 3: Big Herds, Big Safari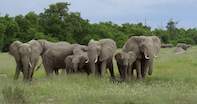 Spend the next couple of days of your Kenya vacation exploring the Lewa region, which is a stronghold for the highly endangered black rhino in Kenya. The conservancy intimately connected with the local tribes uses much of the profit raised in community and conservation projects.
Traverse the conservancy in open game vehicles and spot the myriad of species that live in the area. Watch for baby rhinos hiding beneath their mother's belly. Look for lions being chased by angry buffalo and hiding up a tree to try to escape after a failed attempted hunt.
Encounter animals from a different perspective while on a guided walk in the company of an expert guide. This is also a great opportunity to see some of the 350 species of birds, which occur in the region. Lewa is a fascinating, game rich area with never a dull moment and with knowledgeable guides that know where to find all the action, it lends to a superb safari start.
Day 4: Meru National Park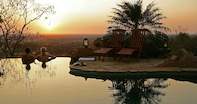 Today on your East African safari package, after a delicious hot breakfast in camp, set out by road to the Meru National Park. Sit back and take in the beautiful scenery as the closed vehicle wends its way through verdant agricultural land on the foothills of Mount Kenya. Arriving in time for a sumptuous buffet lunch, there will be time for a siesta before an afternoon game drive. This is Kenya's wild northern frontier, which is home to rare and threatened animals such as cheetah and Grevy's zebra.
Day 5 - 6: Kopjes and Rivers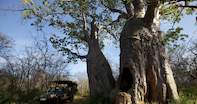 During your luxury African safari, explore this region on guided game drives keeping a lookout for the reticulated giraffe, Grevy's zebra, lesser and greater kudu, gerenuk and the Somali Ostrich. Marvel at the scenery changes from open plains dotted with baobabs, to the coolness of the riverine forest, as you look for crocodiles lazing along the river beds, and listen to the chattering of the monkeys high up in the tree canopy. Search for relatives of Elsa the lion, who made Meru her home when George and Joy Adamson released her back into the wild.
Day 7: Masai Mara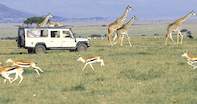 Leaving the semi-arid northern regions behind, catch a scheduled flight from Meru to the Masai Mara. After landing a lodge representative will meet you and drive you through the grassy plains of the Mara to your luxury lodge for the next three nights. The Mara forms part of the same ecosystem as the Serengeti in Tanzania. It is here where nature shows her great abundance and graphically demonstrates the meaning of the circle of life, the Great Migration.
Following the rains, between July and October over 1 million Wildebeest can pass through the Mara grazing on the new grass. Rain, as we know, is very unpredictable, and as the migration follows the rains, this too can be unpredictable. The Mara with its resident herds and large predator populations is a year round safari destination, it always promises an exceptional wildlife experience.
Day 8 - 9: Big Cats and Open Plains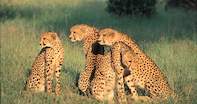 This East African safari package allows you to experience the wide-open spaces of Africa - feel the freedom of the plains. Enjoy memorable wildlife encounters while on guided game drives and bush walks. The Mara is home to one of the densest lion populations in the World and the big cats are never far away
The region is also home to many elephants, buffalo, Grant's gazelles and Masai giraffe among other wildlife.
Day 10: Nairobi
On the final day of your Lewa, Meru & Mara Premier Safari there will be time for one last game drive in the Mara before breakfast. After which, you will be driven back to the airport to catch a scheduled flight back to Nairobi, for your onwards travel arrangements. Alternatively, please speak to one of our Siyabona consultants should you require accommodation in Nairobi or to add on a relaxing beach vacation.
Included
Return flights from Wilson Airport to Lewa and Masai Mara
Shared road transfers to and from airports
Scenic road transfer from Lewa to Meru National Park
Entrance and conservation fees for all reserves as per itinerary
9 nights accommodation in luxury safari lodges
All meals including breakfast, lunch and dinner as per itinerary
Local beverages including teas/coffees, soft drinks, local brand beers, local spirits and house wines
Shared game drives, bush hamper breakfasts or lunches, bush picnics and sundowners
Guided bush walks
Dinner under the stars
Laundry
All meet and greet services
Not included
Champagne, luxury spirits and select wines
Optional activities, spa treatments and all other extras to be settled direct