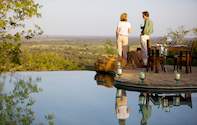 Elsa's Kopje may not be as well known as lodges in Samburu, but that's because it is a well kept secret! This stunning lodge in Meru National Park can be accessed on flights from Nairobi.
This safari accommodation is built on Mughwango Hill above George Adamson's Kora Camp. Exceptional wildlife and diverse landscapes are what you will find in this little known safari destination where Elsa the Lioness of Born Free fame grew up. Meru shares a border with Kora National Park where Christian the Lion returned to the wild under George's care.
Meru National Park has emerged from a poaching epidemic during the 1980s and 90s to become a highlight on the safari circuit. The owners of Elsas Kopje could see the potential of Meru and put plans in motion to secure a better future for the park. Since then wildlife numbers have increased and a Rhino Sanctuary has been built.
Directions to Elsas Kopje, Meru National Park, Kenya
Meru National Park is located to the east of Mount Kenya. Elsas Kopje is situated on the top of Mughwango Hill. There are 2 airstrips in the vicinity for fly-in safaris as well as a helicopter pad very close to the lodge. Mughwango Hill Airstrip is 5 minutes drive away, while Kinna Airstrip is 45 minutes drive away from Elsas Kopje.
By Air
Mughwango Hill Airstrip can be accessed by private charter flights from any destination. There is also a private heli pad just 2 minutes drive away from Elsas Kopje. All scheduled flights from Nairobi Wilson Airport fly to Kinna Airstrip and there are daily departures. An alternative option is to fly to Nanyuki Airstrip on scheduled daily flights and then take a private charter to Meru.
GPS Co-Ordinates for airstrips in Meru
Mughwango Airstrip – 00:07.24N, 38:07.89E
In case of bad weather, aircraft can divert to Kinna Airstrip 00:09.689N, 38:11.679E
By Road
Scenic road transfers can be arranged to / from various camps in the Laikipia / Samburu region which take between 3.5 and 4.5 hours one way:
Nanyuki, Lewa Safari Camp, Ol Pejeta, Joy's Camp, Saruni Samburu