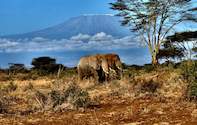 Campi ya Kanzi lies within Kuku Group Ranch in southern Kenya. The ranch is a 400 square mile plot of land owned by Maasai herdsmen.
The ranch stretches from the Chyulu Hills in Kenya to the foothills of majestic Mount Kilimanjaro, the highest mountain in Africa (19,342 feet). The altitude of the ranch ranges from 3,000 to 6,900 feet, so the land includes a number of different environments.
Habitats range from the grasslands of the savanna to green river woodlands and cool mountain forests. The Chyulu Hills on Kuku Group Ranch in Kenya was formed by a lava outflow less than 500 years ago. They are well known for their great biodiversity. The ranch also contains pools, springs, two rivers and a lake, drawing great numbers of large game.
The 220-volt electricity is provided by solar power, and water is heated with solar heaters. In the kitchen, meals are cooked using a special charcoal produced by the United Nations Environment Project. Food scraps are composted for use in the vegetable garden.
Water is the most precious resource; after use, the gray water passes through lava filters that cleanse it before it is used in the garden or put in a pond for wildlife.
Kenya Eco-tourism and the Maasai
Campi ya Kanzi is the living example of the new policies of the Kenya Wildlife Service, which encourages local people to become involved in the conservation of wildlife. This approach to conservation is based on the self-interested involvement of the Maasai, rather than the creation of laws and bans.