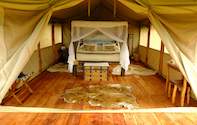 Campi ya Kanzi means 'Camp of the Hidden Treasures' in Kiswahili. For you, it means 'safari in style'. This luxury eco safari lodge in Kenya lies within a 400 square mile private ranch in southern Kenya, in sight of Mount Kilimanjaro.
The Maasai own this land, making it one of the last unspoiled areas of Africa. Connecting three national parks, the property is home to a vast wildlife population.
Tembo ('Elephant') House is the heart of the camp. The clubhouse has a thatched roof and is beautifully constructed of local materials such as lava rocks and native timbers. It's open to the outdoors, and from its terrace, you'll have a spectacular view of Mount Kilimanjaro. Tembo House has a large lounge where you can enjoy reading books about Africa, or relax with a refreshing drink after your safari.
You will also take your meals at Tembo House. Crystal glasses, fine table settings and candlelit dinners will be a high point of your luxury safari lodge in Kenya. The cooks are specially trained in the preparation of fine Italian cuisine (home made fresh pasta, risotto, biscuits, bread and ice-cream), which is featured along with international and local dishes. Fresh daily vegetables are supplied by the organic vegetable garden, as well as fresh milk from the organic dairy and fresh eggs from the chickens at the luxury eco safari lodge in Kenya. Wines are from the Italian vineyards of Antonella's family.
Campi Ya Kanzi accommodates guests in 6 luxury tented cottages and 2 luxury tented suites. One of these is named 'The Hemingway Suite' for the famous author who wrote of the nearby Chyulu Hills in his 'Green Hills of Africa.' The Hemingway Suite and Simba Suite both have the best views of the waterhole where animals gather.
The rooms feature either twin beds or a king-size bed, made at the camp with local logs, with specially made linen imported from Italy. A table, two safari chairs, a colonial trunk, shelves and hangers for your clothes, and daily fresh flowers complete the interior décor.
Luca Belpietro will be your host and professional guide at his luxury safari camp in Kenya. He was born in Italy and along with his father, he toured Africa on many safaris. Your hostess at this luxury safari camp in Kenya will be Luca's wife, Antonella Bonomi. Luca and Antonella along with their 3 children call Campi ya Kanzi their home.
Luxury Tented Cottage Facilities
Private veranda
Custom Italian linens
En suite bathroom
Organic bath products
Bathrobes
Safe
Flashlight
Safari literature
24-hour solar electricity
Hot and cold running water
Laundry service