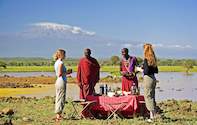 Enjoy an exciting Kenya wildlife safari at Campi Ya Kanzi in Chyulu Hills National Park. You'll discover something different every day of your visit! Wind Down, Relax and Explore!
Campi ya Kanzi features a Kenya wildlife safari led by Maasai natives. Experience the thrill of tracking game on foot with traditional Maasai! Located in Chyulu Hills, Kenya's prime game area between Amboseli and Tsavo parks, the camp provides luxury tented camp lodgings for your exclusive Kenya wildlife safari in the Masai Mara.
Safari
You'll make your Kenya wildlife safari game drives in one of the six Land Rover Defenders. Your armed professional guide and Maasai game trackers will always be with you to ensure your safety in the bush. On a walking Kenya wildlife safari with your Maasai guides, you'll see many species of game and birds in their natural environment.
Since this is your Maasai tracker's native land, he'll be able to introduce you to local medicinal plants and discuss animal tracks and behaviour and share with you his lore of the Maasai culture and traditions on this Kenya wildlife safari at Campi Ya Kanzi.
Wildlife
The ranch is immense and has a wide variety of natural habitats, so it's home to a remarkable range of wildlife and bird species. This diversity makes it a very valuable area for conservation in Kenya. It also ensures a truly thrilling Kenya wildlife safari for guests!
Of course, there are Lions, Elephants, Leopards, Buffalo and the common animals of the plains, but also many rare species such as the African wild Dog, Lesser Kudu, and Cheetah thrive on the ranch. Conservation efforts have been so successful that Black Rhino have recently moved onto the ranch!
More than 50 species of mammals and almost 400 bird species inhabit the ranch. The most recent game count revealed an abundant local wildlife population: 312 Giraffes, 289 Buffalo, 115 Elephant, 37 Lions, and 16 Leopards. There are also hundreds and hundreds of Gnus, Zebra, Waterbuck, Grant's Gazelle, Thompson's Gazelle, Baboon, Hartebeest, and Impala.
A walk through the gentle hills near the camp will reward you with a view of mountain reedbuck, the graceful klipspringer. While exploring the riverbanks on your Kenya wildlife safari, you might catch a view of the shy Lesser Kudu or the Rare Gerenuk.
Towards the end of the day, you'll find that early evening is also an excellent time for a Kenya wildlife safari. At dusk, you can make an easy climb up one of the beautiful volcanic hills surrounding the camp. This provides a stunning view of animals grazing on the golden plains below you.
Back at Campi Ya Kanzi after a long day outdoors, you'll find that enjoying a drink beside the fireplace is particularly attractive. Accompanied by the magic sound of the African night, a delicious five-course candlelit dinner provides a peaceful close to your exciting day.