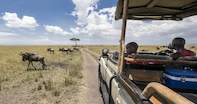 Our 9 Day Kenya Wildlife Safari offers you an affordable African safari that encompasses some of the greatest wildlife destinations in Kenya - Amboseli, Laikipia and the Masai Mara.
Kenya Wildlife Safari Experience
Embark on an African safari in the majestically beautiful Amboseli National Park where you can capture iconic shots of elephants with Mount Kilimanjaro in the background. From Amboseli fly to Laikipia, where Ol Pejeta Conservancy is located, tucked into the foothills of the Aberdares and the snowcapped Mount Kenya. Ol Pejeta boasts all the "big 5" including black rhino.
Then head to the Masai Mara and see one of the greatest wildlife spectacles on Earth - the Great Migration. Over 2 million Wildebeest, Zebra and Gazelles move restlessly in search of fresh grazing and water. Amazing wildlife sightings and stunning views across open plains make for an unforgettable African safari experience.
Kenya Wildlife Safari Highlights
Explore game rich areas of Kenya, staying in exclusive conservancies
Spend a full day safari game drive in Amboseli National Park & the Masai Mara National Reserve
Enjoy, morning, evening and night game drives
Escorted walks with Maasai guides
Relish bush breakfasts, picnic lunches and sundowner drinks from scenic viewpoints
Visit a Maasai village and get to learn about this fascinating tribe
Day 1: Drive from Nairobi to Amboseli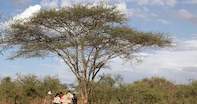 Your Kenya wildlife safari starts with an early morning road transfer from your hotel in Nairobi to the private Selenkay Conservancy, on the edge of Amboseli National Park, around a four-hour journey. You will arrive at the camp in time for a delicious lunch and some relaxation.
After afternoon tea, you can go on a Maasai guided walk to a nearby Maasai village, where you can learn more about the day to day lives of these fascinating people and their culture.
Day 2: Amboseli National Park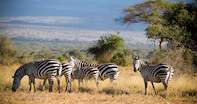 Wake up to the sounds of the bush and raucous calls of the birds. Set off after breakfast for a full day safari in Amboseli National Park. Here you will have the opportunity to capture pictures of wildlife with Mount Kilimanjaro in the background.
The park is semi-arid and has marshes and swamps fed by waters that come down from the mountain which support a vast array of Kenya wildlife such as buffalo, zebra, many elephants and pride of lion. Enjoy a picnic bush lunch, surrounded by the African game.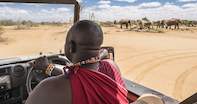 Then continue your game drive into the afternoon, before returning to camp. In the evening set out for another game drive, stopping at a scenic viewpoint to watch a magnificent Kenyan sunset with a chilled sundowner in hand. Continue your game drive in the dark, for a night drive. Searching for those elusive nocturnal animals that have been hiding all day, like caracals, bat-eared foxes and aardvarks.
Day 3: Fly to Laikipia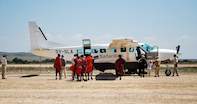 After breakfast, you will be transferred to the local airstrip to fly to Wilson Airport in Nairobi to catch your connecting flight to Laikipia. Here you will be met by a guide to take you to your camp in Ol Pejeta Conservancy, arriving in time for lunch. In the late afternoon, you can go on a game drive in the conservancy, looking for the large carnivores that patrol the plains. Stop for sundowners in the bush while watching the sunset paint the sky a myriad of colours
Day 4: Explore Laikipia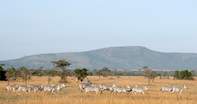 Today you can enjoy a full day safari on Ol Pejeta Conservancy including a visit to the chimpanzee sanctuary. The conservancy has over 60,000 acres of wilderness to explore and is home to an astounding array of wild animals, including elephants, rhino and lions. Or you can go on a guided bush walk, where you have the opportunity to touch, smell and hear nature as you explore the bush. There is nothing quite like the thrill of tracking an animal from it's spoor and interpreting the tracks as to what the animal has been up to whilst you were asleep.
After dinner wrap up warm and head out again for a night drive. With the aid of a spotlight and your guide, you have the chance of spotting some of Kenya's more unusual critters. Look for the striped polecat (also known as a Zorilla), the aardwolf or maybe even a lion or leopard hunt.
Day 5: Fly to the Masai Mara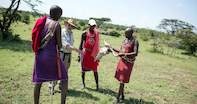 After an early morning bush walk or game drive, it's time to head to the airstrip and board a plane to the Masai Mara. On arrival, you will be met by a guide and transferred to your camp, in the Ol Kinyei Conservancy. This conservancy has open plains, riverine forests, springs, bubbling streams and rivers, with rolling hills giving spectacular views across the Mara.
Ol Kinyei belongs to a Maasai community who have recently set aside land as a sanctuary for wildlife. Head out and explore these rolling savannahs on an afternoon game drive taking some cold sundowners with you.
Day 6: Full Day Safari Masai Mara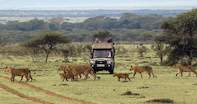 Today go on a full day safari in Masai Mara National Reserve, taking a picnic lunch with you. Extend your search and revel in the marvellous antics of the plains antelope, always on the look out for their ever-present predators. Marvel at the amount of game all across the plains, at the big African sky and the raw beauty of Kenya.
Day 7 - 8: Explore More of the Masai Mara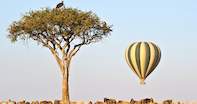 On day 7 of your Kenya Wildlife Safari, you go on an extended game drive and change camps, within the Mara ecosystem to Olare Orok Conservancy. You can include an optional early morning Hot Air Balloon Safari - there is nothing more peaceful and dramatic than drifting over the savannah as the sun peeks over the horizon and floods the land with light. Alternatively, sleep in a bit before going on another full day game drive and have some amazing wildlife encounters.
Day 9: Nairobi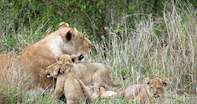 On the final day of your wildlife Kenya safari, you will enjoy one last game drive or walk before enjoying breakfast. Afterwards, you will be driven to the airstrip to catch your plane to Nairobi where your tour ends. Please speak to one of our Destination Specialists should you need pre or post tour accommodation.
Included
Flights from Amboseli Airport, Laikipia, Masai Mara and Wilson Airport in Nairobi.
Shared road transfer from Nairobi to Amboseli
Shared road transfers to and from airstrips
Entrance and conservation fees for all reserves as per itinerary
8 nights' accommodation in tented Kenya safari camps
All meals including breakfast, lunch and dinner as per itinerary
Local drinks including teas/coffees, soft drinks, local brand beers, local spirits and house wines
Daily morning, afternoon and night game drives in a shared safari vehicle accompanied by an experienced guide
Guided walking safaris
Maasai Village visit
Chimpanzee Sanctuary visit
All meet and greet services
Not Included
Premium branded drinks
Optional activities and all other extras to be settled direct