Lake Bogoria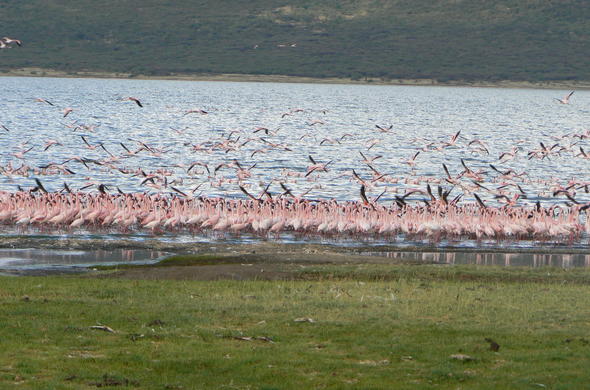 Lake Bogoria in Kenya is one of the lesser celebrated of the Rift Valley lakes but it provides as much beauty and inspiration as any of the other dramatic lakes in the region.
Such is the importance of Lake Bogoria that it has been declared a Ramsar Site and the Lake Bogoria National Reserve has been a protected area since the early 1970's. With a depth of about 10 meters the lake is relatively shallow and is approximately 34 km long by 3.5 km wide.
Lake Bogoria is a saline, alkaline lake and like
Lake Nakuru
,
Lake Elementia
, Lake Magadi and Lake Logipi it is home to one of the world's largest populations of lesser flamingoes.
Geysers and Hot Springs
The Lake Bogoria National Reserve includes the Kesubo Swamp to the north and the Siracho Escarpment to the east. The lake is renowned for geysers and hot springs and in a number of places around the lake geysers erupting up to 5 meters can be observed. The geysers are however affected by the fluctuations of the lake. Lake Bogoria has the more true geysers than anywhere else in Africa - with a count of 18.
With no visible outlet most the water is lost though evaporation, leaving the water in the lake saline, and because of this not much life can survive in the water save for the abundant crustaceans that are favoured by the flamingoes.
The lake has changed a number of times between freshwater and saline over the millennia, and it has been up to 9 meters higher. There is a thought that it could have overflowed towards Lake Baringo in the north.

Aside from the flamingoes there are many other birds to see at Lake Bogoria as well as buffalo, zebra, baboon, warthog, caracal, spotted hyena, impala and dik dik.
Lake Bogoria and Humans
The Lake Bogoria area was the traditional range of the Endorois people, but they were forcibly removed from the area with the proclamation of the lake as a National Reserve. The Endorois are in the process of challenging their removal at the African Commission on Human and Peoples' Rights, although many believe that any resettlement will spell disaster for the lake ecosystem.
There are a number of campsites in the park and a hotel and spa at the park entrance for those needing a little more luxury.