Kenya Archaeological Sites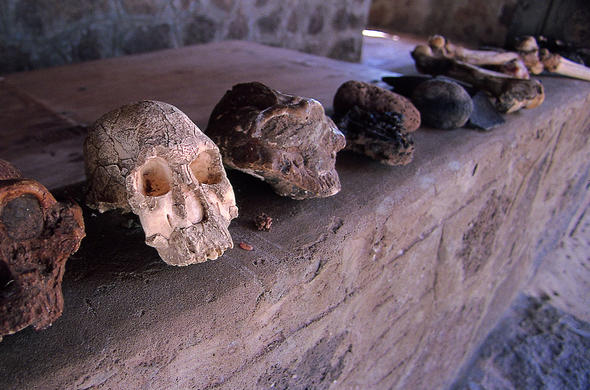 East Africa is still considered by many anthropologists to be the Cradle of Mankind and the many archaeological sites in Kenya add substance to this claim.
Kenya is renowned for its sites depicting the life of early man, with many the sites showcasing the various stages of the development and evolution of early man. Although not as famous as the legendary Olduvai Gorge on the plains of Tanzania, the sites in Kenya are as dramatic as anywhere else in Africa.
Cradle of Mankind
There is a debate still as to where the actual
Cradle of Mankind
is, the place where the first stirrings of humanity happened. There can be no doubt today that this happened in Africa but the debate still rages as to where exactly in Africa it was.
The debate revolves around whether it was East or Southern Africa, but whatever the end result of the debate is the truth remains that Kenya is one of the most important countries for studying early man.
The Leakey's of Kenya
Anthropological archaeology in East Africa is synonymous with the Leakey family, with Louis and Mary Leakey pioneering much of the work that is ongoing today. Louis Leakey is known for convincing eminent scientists that Africa is where human evolution began, and that Africa is the cradle of mankind; a view that is now universally accepted.They are also responsible for discovering many of the archaeological sites. Their son Richard Leakey continued their work - and still plays a role today.
Kenya's Archaeological Treasure Chest
Prehistoric sites are found throughout Kenya with some of the best known being:
Hyrax Hill
- prehistoric site near Nakuru, it is considered one of the country's most important neolithic excavation sites. Hyrax Hill dates from 1500 B.C. and was discovered by Louis and Mary Leakey in 1926. A fortress and and several tombs were found there.
Koobi Fora
- a source of hominin fossils shedding light on the evolution of man over the previous 4.2 million years, but far exceeding the number of humanoid fossils are the non-humanoid fossils giving a detailed look at the fauna and flora as far back as the Miocene era
Pate Island,
Kenyan North Coast - human activity dating back from the 7th century has been found in this ancient port town. Chinese porcelain artefacts prove that the Chinese were trading in Africa centuries ago.
Kariandusi near Lake Elementaita
- site of the hand-axe man was discovered in 1928. A rise in the Lake level drove prehistoric men from their lake-side home and buried all the tools and weapons which were left behind
Olorgesailie
, Eastern Rift Valley about 70 Km south of Nairobi - this site is significant for geology, paleontology as well as archeology. Here volcano ash helped to preserve many animal fossils as well as some now extinct animals. There has also been found an abundance of hand axes. The first human fossil was unearthed here; the skull of Homo erectus.
There are many other sites in Kenya that indicate different eras in earth's history and the country is truly an archaeologists dream.